Since Walther clearly has the sporting sector in mind with the pistols of the Steel Frame series, one could almost have assumed that the company – which  has now existed for 135 years – is somewhat neglecting the polymer pistol sector. But far from it, Walther in Ulm has been secretly and quietly pushing ahead with a new generation of pistols. We accepted the company's invitation without knowing exactly what to expect.
Striking design – That's how the Walther PDP stands out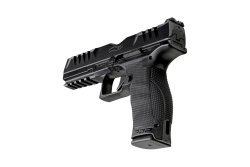 The PDP design gets a striking appearance from its deep cocking "SuperTerrain" serrations that can be found both at the rear and at the front of the slide. And they grip as well as they look! Thus, users with wet hands or a wet gun should be able to better handle possible loading or slide manipulations. The new grip is just as pleasing with its tetrahedron-shaped texture, which Walther itself calls Performance Duty Texture. Sharp but not too aggressive, they seem to have found a good compromise here. By the way, the grip backstraps, also featuring this texture, are available in different sizes.

Speaking of sizes, the PDP is offered in two different versions. The full-size version features a long grip, and magazine capacity is 18 cartridges in the tried-and-true 9mm Luger. Barrel lengths of 102 mm (4"), 115 mm (4.5") and the sporty 127 mm (5") are available. The Compact version, whose grip is about 0.3"/8 mm shorter, has a capacity of 15 9mm rounds. Barrel lengths of 102 mm (4") and 115 mm (4.5") are available here. 

Successful ergonomics – Market launch is in July 2021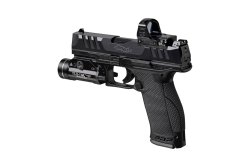 All models feature a slide stop on both sides and the magazine release button is also reversible. Following the sign of the times, all PDP models are available with a slide cutout for fitting a mini red dot sight (MRDS). Adapter plates can be purchased separately and include models such as Docter/Noblex, Meopta, Trijicon RMR and SRO, Holosun 507C/407C/508T, Riton, Axion, Leupold Delta Point, Delta Point Pro, Shield RMS, RMSw, SIG Sauer Romeo Zero or Vortex Viper.

Those who rely on iron sights can take advantage of the large aftermarket range of GLOCK sights. Walther is going for Austrian service pistol compatibility here, which offers plenty of options for retrofitting. The trigger weight, according to in-house figures, is around the service pistol standard 2.5 kg with a short reset travel. The finish and feel is on the high level you would expect from Walther. All in all, Walther's new PDP makes a positive impression and we are eagerly awaiting the first test guns to report on our initial range experiences.
During the IWA Studio Edition on March 12, 2021, Walther CEO Bernhard Knöbel made it clear where he sees "his product": the Walther PDP is "the highest performing duty pistol of the world" and initially the market focus has been the launch in the USA.
But it's also coming to Europe now: the Walter PDP will be available at retailers from the beginning of July 2021. In Germany, the retail price will be 798 euros for all models.