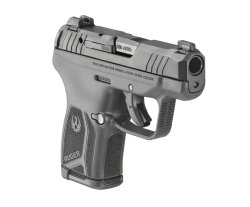 Ruger has just dropped the latest upgrade of its ultra-compact LCP pistol: the LCP MAX. Featuring a  flush-fit 10+1 round double stack magazine – the standard LCP and LCP II have a 6+1 round magazine – and chambered in .380 Auto, the Ruger LCP MAX can also accept a longer 12-round optional magazine that actually doubles the capacity of the previous LCP models. 
A finger grip extension floorplate in included: both this and the accessory 12-round magazine offer an extended grip to better fit the hand. According to the manufacturer, the magazine feed lips are optimized to reliably feed the wide variety of modern .380 Auto ammunition available. The magazine release is reversible.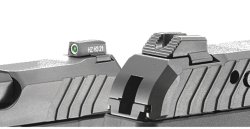 Size (1"/25mm wide) and weight (less than 11 oz/300 g) make the LCP MAX a real micro-compact carry gun, "smaller than every micro-compact 9mm pistol available today," as emphasized by the guys at Ruger. Barrel is still a respectable 2.80"/71 mm length. The tritium front sight with white outline and the u-notch rear sight with a square face to aid in one-handed cocking, are made of steel and drift-adjustable.
Among the other highlights of the LCP MAX, the medium-textured grip frame with improved ergonomics and the Secure Action trigger with inner trigger safety. Being designed for concealed carry, all corners and edges have been smoothed for better comfort. 
Ruger LCP MAX, "a decade of learning and experience"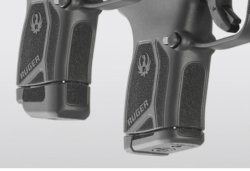 "The LCP MAX design incorporates over a decade of learning and experience. What you loved about your LCP and LCP II, we know you will love even more with the new LCP MAX,"  said Ruger President and CEO, Chris Killoy.
The .380 Ruger LCP MAX ships with a finger grip extension floorplate, one 10-round magazine, a pocket holster and magazine loader. Price, as often is the case with Ruger guns, is interesting, at 449 USD. But at the same price point of some 9mm compact carry pistols, will the extra small size, light weight and magazine capacity make people forget that this is a .380 and not a 9mm pistol?
Ruger LCP MAX specs and price
| | |
| --- | --- |
| Caliber:  | .380 Auto |
| Magazine Capacity:  | 10+1 rounds (12 rounds with accessory magazine) |
| Barrel Lentgh:  | 2.80"/71 mm |
| Overall Length:  | 5.17"/131 mm |
| Height: | 4.12"/104 mm |
| Slide Width:  | 0.81"/20.5 mm |
| Weight | 10.6 oz/300 g |
| Front Sight:  | Tritium with white outline |
| Slide Finish:  | Black oxide |
| Price (MSRP):  | 449.00 USD |