A premise: Walther pistols produced in the United States are nothing new. The PPK/S was produced from 1983 by Interarms and then the Walther PPK and PPK/S models were manufatured under license in the USA no less than by Smith & Wesson until 2014.
Having been out of production for five years and still warmly welcomed, the "made in the USA" Walthers will now come back to the market in a revised form, no longer built under license but manufactured in Walther Arms's US plant of in Fort Smith (Arkansas). 

More than thirty major revisions have been made on the critical parts of this classic gun to improve it and bring it back to its original perfection and reliability. 
All the components so far built with the micro-casting technique have been replaced with parts machined from solid steel blocks, as envisaged in the original design. The Walther PPK/S pistols are then hand assembled by particularly qualified craftsmen. For the time being, no official price has been announced for this gun, which with its many variations and long life is a very fascinating collection theme.
Walther PPK/S, a limited edition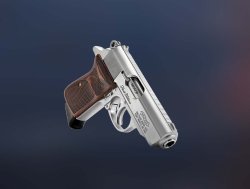 The Walther PPK/S First Edition is chambered in .380 Auto caliber and is entirely made from stainless steel, also featuring elegant cocobolo grips, a tropical wood with a very warm hue. On the right side of the slide, just below the ejection port, the words "First Edition" are rolled. Only 1250 Walther PPK/S First Edition will be produced with consecutive serial numbers from 101 to 1350 and they will be distributed exclusively in the USA by TALO Distributors. The Limited Edition series will not be repeated in the future.
"We are very excited about the release of the Walther PPK/S First Edition. To build upon the history of this timeless pistol and offer a collector's item was a fun project. The Fort Smith, Arkansas production is another mark on the storied history of this pistol, and we look forward to the future of the PPK series," said Bret Vorhees, Vice President of Sales and Marketing at Walther Arms, Inc.