Undoubtedly, we are not living the happiest of times worldwide. But nonetheless wheelgun fans are being given good reasons to rejoice lately. 
After welcome comebacks such as the Colt Python, Smith & Wesson – or rather S&W Performance Center – is now adding tasty novelties: the new 2.5" Model 19 Carry Comp revolver in  .357 Magnum is one of them.

They already had being offering the Model 19 Carry Comp with a 3"/76 mm barrel since 2018. And as you may have guessed from the name, since it is designed  for concealed carry the new and shorter iteration can only be appreciated as an improvement, with its reduced footprint (overall length is 7.5"/190 mm) and a 2.5"/64 mm barrel. The latter is a PowerPort vented barrel, that will ensure "exceptional recoil management in a small and strong K-frame package," as stressed by the manufacturer.
Smith & Wesson Performance Center Model 19 Carry Comp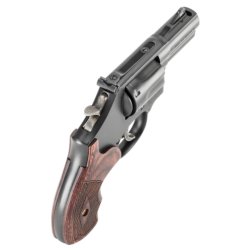 Other characterizing details of the Model 19 Carry Comp include a tritium front night sight, fully adjustable rear sight, trigger overtravel stop, and an action job from the Performance Center for a smooth double-action and light single-action trigger pull.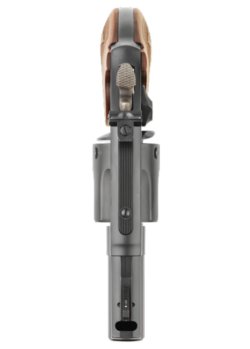 The cylinder holds 6 .357 Magnum rounds. It can also accept .38 S&W Special  and .38 S&W Special +P cartridges, of course. Barrel, cylinder and frame material is carbon steel, with a matte blue finish – the right choice for a gun expressly intended for concealed carry and not for case display. 
Custom wood or synthetic grips are available. All in all, the Model 19 Carry Comp is a great reimagining of the classic K-frame Model 19 introduced for the first time in the now distant 1950s. 
As is often the case with Smith & Wesson Performance Center models, price is not cheap, at a rather hefty $1132 in the US. Will the new Smith & Wesson Performance Center Model 19 Carry Comp reach this side of the pond too? Let's wait and see. Stay tuned!
Smith & Wesson Performance Center Model 19 Carry Comp specs and price
| | |
| --- | --- |
| Caliber:  | .357 Magnum |
| Cylinder Capacity:  | 6 rounds |
| Overall Length: | 7.5"/190 mm |
| Barrel Length:  | 2.5"/64 mm |
| Weight: | 33.0 oz/935 g |
| Sights: | Front, tritium night; Rear, black blade adjustable |
| Action: | Single/Double Action |
| Grip: | Custom wood and synthetic |
| Price: | 1132 USD |