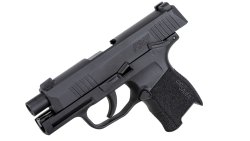 A new and much-awaited addition to SIG AIR Division, SIG's CO2 version series of its own firearms: the company introduces the new P365 BB Pistol, modeled after the award winning SIG Sauer P365. The latter is a high capacity, micro-compact 9mm pistol specifically designed for every day concealed carry. 
Its CO2-powered sibling is a polymer-framed semi-automatic BB pistol in 4.5mm (.177 cal), featuring realistic blowback action and green high visibility 3-dot fixed sights. Weight it similar to the P365 9mm firearm, too. The 12-round drop magazine holds the steel BBs and also houses the 12 g CO2 cartridge for fast reloading. The P365 BB Pistol shoots up to 295 fps, even if velocity may vary depending on temperature and altitude.
SIG P365 air pistol, a perfect training tool
In case you have any doubt, this is not a toy: all SIG's airguns are conceived as an exceptional training tool for personal defense and engineered specifically to closely measure up to the most popular SIG original handgun model platforms. The P365 BB pistol makes no exception: it's in fact designed to fit in available P365 holster systems for easy practice of efficiently drawing from concealment.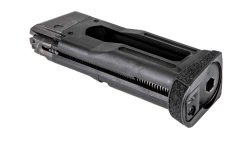 "The SIG P365 9mm pistol has won numerous awards for its concealability, performance, and exceptional magazine capacity and has quickly become the top choice for concealed carry," said Joseph Huston, Vice President and General Manager of SIG AIR. "Our new P365 BB Pistol will give P365 owners and others who carry for personal protection a training tool of the highest quality when a trip to the range for live fire is not possible. The P365 BB Pistol has similar balance and handling characteristics as the centerfire model and holds 12-rounds for realistic training. The drop magazine also allows fast and easy reloading."
 SIG's airgun lineup already includes several models, including the P320-M17, the X-Five and the P226. The P365 BB will be available to consumers summer 2019 with a MRSP in the USA of 99.99 USD (price may vary in other countries due to VAT and other taxes).
P365 BB air pistol: technical data
| | |
| --- | --- |
| Caliber:  | 4.5 mm Steel BB |
| Overall length:  | 5.75" / 146 mm |
| Barrel length:  | 3.25" / 82.5 mm |
| Weight: | 0.8 lbs / 0.36 kg |
| Finish:   | Black |
| Muzzle velocity:  | up to 295 fps |
| Magazine Capacity:   | 12 |
| Power Source:   | CO2 |
| Price (MRSP):  | 99.99 USD |