Except for the GSG-made Mosquito discontinued in 2013, till now SIG Sauer could offer no .22LR rimfire pistols in its product portfolio – which was pretty odd, since the .22LR is the most popular cartridge worldwide for low-cost training and inexpensive, pure range fun, as well as "plinking".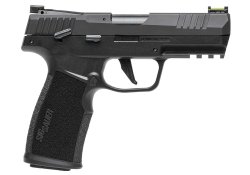 This lack has been finally filled: SIG Sauer unveils the new P322, a gun completely designed and manufactured by SIG Sauer in New Hampshire. 
Built using the P320 model a reference and with almost the same footprint of a P365XL, the still compact-sized .22LR pistol from SIG has a stainless steel frame, a polymer grip and an aluminum slide. 
But the highlights don't stop here: the new P322 boast a whopping and unprecedented  21-round capacity (20-round magazine + 1 in chamber). Hence, SIG's claim, "the new P322 gives you 21 reasons to love 22".
Video: SIG Sauer P322 in caliber .22 on the shooting range
This video has been hidden because of an external service (YouTube) that could potentially collect personal data.Allow video services for the duration of the visitAllow video servicesStop allowing video services


SIG Sauer P322, a new rimfire package full of new features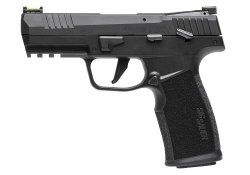 The P322 is a single-action only, internal hammer gun with a fixed barrel, which is great for accuracy. Further features include an optic ready, removable rear sight plate – so that a ROMEOZero Elite red dot optic can be easily added without the use of adapter plates – and a 1/2×28 threaded barrel adapter making it suppressor ready right out of the box. The gun comes factory with fiber optic front and adjustable rear sights, by the way. More than this, the trigger has interchangeable modular shoes: the shoe is in fact a separate polymer piece that you simply pop onto the metal trigger face. The P322 comes with both flat and curved shoe options.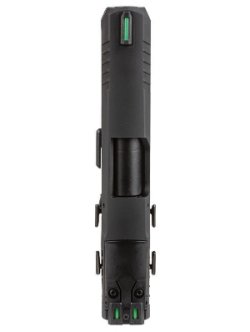 The grip itself is not modular, but SIG ensures that it is designed to fit all hand sizes. And if you are a southpaw shooter, no worry, since controls are fully ambidextrous, including the thumb safety. A MIL-STD-1913 rail on the dust cover provides space for the mounting of accessories such as gun lights or lasers. As for the large capacity 20-round magazine, don't think it will be a nightmare to reload: thanks to two side tabs, it is particularly easy to insert cartridges into it. A reloader is included in the package, anyway. If 20 rounds are still not enough for you, a 25-round magazine is also available as an option –  it's the same as the 20-round one, but with an extension that holds five more rounds. A fluted chamber should ensure full reliability when expending all that ammo. Magazine well is flared for quick magazine changes.

So, summarizing up the SIG P322's features: optics ready, suppressor ready, 21-round capacity, completely ambidextrous controls, adjustable fiber optic sights, interchangeable flat and curved triggers. And all this in a .22 pistol that, even if price is still TBD, should retail in the $400 range complete with two 20-round magazines. Not bad at all.
SIG Sauer P322 in .22 LR - technical specifications
| | |
| --- | --- |
| Caliber: | .22LR |
| Trigger Action:  | SAO |
| Frame Material:  | Stainless steel / polymer |
| Slide:  | Aluminum |
| Magazine Capacity:  | 20 rounds |
| Sights:  | Fiber optic front / adjustable rear |
| Barrel Length:  | 4"/102 mm |
| Overall Length:  | 7"/178mm |
| Height:  | 5.5"/140 mm |
| Width:  | 1.4"/36mm |
| Weight:  | 17.1 oz/484 g  |
| Sight Radius:  | 6"/152 mm |