While in Germany the traditional SIG Sauer company in Eckernförde has regrettably closed its doors, the US offshoot on the other side of the pond is growing and growing. As recently as mid-October last year, SIG Sauer USA announced that it was continuing to expand in the state of New Hampshire on the East Coast. In addition to the site in Newington, a further manufacturing facility is being set up in Rochester with around 300 future new jobs. In addition to the headquarters in Newington, SIG Sauer also operates six other smaller production facilities in New Hampshire, as well as additional companies in Arkansas and Oregon. But that is just a side note. The handguns from the SIG Sauer Custom Works department are particularly exclusive and classy. 
SIG Sauer P320MAX – The new "signature pistol" from Max Michel
This brand-new model is based on the technical heritage of the modular P320 series with a polymer frame, striker firing system and a serialized trigger assembly encapsulated in a stainless steel chassis. As is well known, the young M17/M18 US Army service pistol also originates from this series. The P320MAX is specifically intended for the USPSA Carry Optics Division, known in Europe as the IPSC Production Optics Division.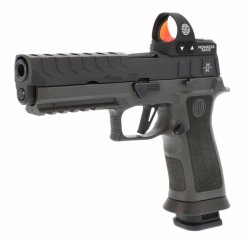 The new SIG Sauer P320MAX is, so to speak, the "signature model" of Max Michel, an IPSC/action shooter who is accustomed to success and has been a factory shooter for SIG Sauer USA for many years. The 2014 IPSC World Champion in the Open Class has won countless major matches, trophies and titles and, for example, won all (!) USPSA Area Championships in 2010. Max Michel is a 24-time IPSC US Champion and also a multiple Steel Challenge World Champion.
Even the P320 X-Five Legion in 9 mm Luger, his favorite tool of the trade so far, features a polymer frame infused with tungsten metal powder, which increases the gun's weight from 980 g (standard P320 X-Five) to over 1230 g (Legion version). This contributes to much smoother firing characteristics (recoil, muzzle climb). The new SIG Sauer P320MAX is also based on this frame, which is combined with a SIG Sauer Custom Works upper with a completely redesigned slide and 5"/127 mm match barrel. The slide has been radically milled to create wraparound cocking serrations for all manner of firearm manipulation during competition stress, and is factory-mounted for a mini red dot sight. A one-piece, steel spring guide rod sits under the barrel in classic 1911 style, and the match pistol comes right out of the box with two different weight recoil springs (14 lb and 12 lb). From the factory, the new P320MAX comes with a ROMEO3MAX red dot sight with a 6 MOA red dot from SIG Sauer Electro-Optics, as well as four magazines with a capacity of 21 rounds.

A utility pistol with innovative grip module: SIG Sauer P320 XCarry Legion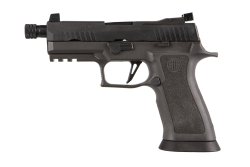 Also based on the innovative tungsten-infused polymer grip module is the compact P320 XCarry Legion in 9mm Luger with 3.6"/91mm barrel with muzzle thread for mounting a silencer. The pistol features a gray hard-coated slide with suppressor night sights. However, the slide top is also ready for mounting a mini red dot sight (SIG Sauer Electro-Optics ROMEO1Pro or Leupold DeltaPoint Pro). Like the P320MAX, this utility handgun is fitted with the straight, skeletonized trigger blade and is topped off with a magwell for quick magazine changes. Three 17-round magazines with aluminum base pads are included. Prices for EU have not yet been determined.
According to reports, the new pistols will be available from spring 2021. Sales in Germany will be handled by GSG. How SIG Sauer's distribution will be organized in other European countries and which models will be available has not yet been conclusively clarified. We are staying on the ball.
---
Further information on SIG Sauer firearms can be found on the SIG Sauer website.
Find all the news from SHOT Show 2021 on all4shooters/all4hunters.