The SIG Sauer P320 X-Series is the new standard service pistol for some select agencies of the Norwegian Police. After being adopted by several elite military and law enforcement agencies across the globe – and in particular by the U.S. Army as the M17 – SIG's gun will replace the Heckler & Koch P30 pistol. The tender for between 600 and 800 should be worth 5,000,000 Norwegian Krone (around 600,000 USD).
SIG Sauer P320, developed for military and law enforcement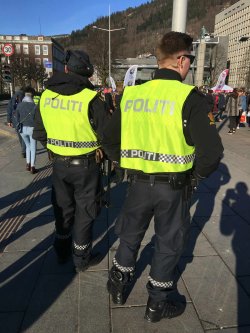 In a press release, SIG Sauer adds that "the Norwegian Police conducted a very demanding, rigorous, and stressful testing protocol that lasted several weeks with firearms from multiple manufacturers. Testing for accuracy, speed, performance and ergonomics was conducted by select agencies within the Norwegian Police with whom the pistol would be in service with, and a third party was used for evaluating technical qualities. In all areas, the SIG Sauer P320 X-Series outperformed the competition, making it the pistol of choice for those agencies."
The P320 pistol was initially developed and engineered for service with the military and law enforcement agencies. Introduced in early 2017, the X-Series is a 9mm modular, striker-fired pistol with a serialized trigger group available in varying grip sizes and adaptable to multiple calibers. The intuitive 3-point takedown requires no trigger pull for disassembly, and safety features include a striker safety, disconnect safety, and optional manual safety.
"We are very proud to add the specialized forces of the Norwegian Police to this list of elite agencies, and we look forward to developing and expanding this partnership," explains Ron Cohen, President and CEO of SIG Sauer, Inc.