The new SIG Sauer P320 X-Five Alpha in 9 mm Luger with 5"/127 mm barrel and a magazine capacity for 17 cartridges is based with its Browning-Petter locking mechanism and striker-fired system on the technology of the current US Army's M17/M18 service pistol, but is already adapted to dynamic shooting sports thanks to the barrel length/sight radius, as well as  all other features down to the smallest detail.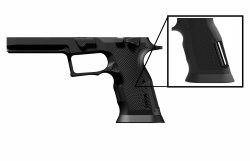 The extremely slim aluminum grip with interchangeable grips, magazine funnel and non-slip surface texture, which promises an effective purchase with a very high shooting hand position and best handling characteristics, is the best proof of this. Two interchangeable tungsten weights in the grip back allow for individual balance adjustment and weight tuning up to 45.9 oz/1300 g.
The frame houses a match trigger with a straight trigger blade, crisp characteristics and a trigger weight of around 56.4 oz/1600 g, combined with an ambidextrous thumb safety in 1911 style. A clever design detail is also that below the thick-walled heavy duty match barrel, a 1911 spring/guide rod assembly is located in the dust cover. This makes it much easier to achieve fine spring tuning in combination with different ammunition/bullet weights. The slide is factory ready for the installation of a mini red dot sight, but the gun comes with practical iron sights anyway. There is enough light in the notch of the adjustable micrometer rear sight to enable fast target acquisition in conjunction with the narrow front sight with extra-bright fiber optical insert. The upper assembly is successfully rounded off by rear and front cocking serrations as well as by "Lightning Cuts", i.e. weight-reducing milled grooves. Price: 1689 euro (RRP) – All prices stated in this article may vary in your country due to VAT and import duties. Made in Germany also stands for a very special quality promise from SIG Sauer for the new P320 X-Five Alpha.
P226 NXT – A modernized classic in 2020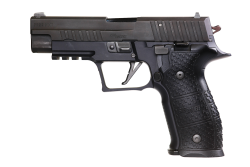 The SIG Sauer P226 in 9mm with light alloy grip, double-action trigger and decocking lever as well as double-stack magazine is without doubt one of the most popular service pistols that saw the light of day as "Wondernines" in the mid-1980s. Other typical German police service pistols from this era are for example the Heckler & Koch P7M8/M13 or the Walther P88. Although today polymer frame pistols in 9x19 have conquered the world of law enforcement, the P226 in an all-steel design is still in service with German SEK (police tactical units). SIG Sauer describes the P226 NXT, which is based on the fundamental technology of the classic model, as the "new reference point in terms of ruggedness and reliability". The light-alloy grip with extended beavertail and Picatinny rail on the reinforced dust cover for the attachment of gun lights/lasers features plastic grips with a rough surface texture for maximum control and an integrated magazine funnel that allows for smooth, quick magazine changes.
The transition area on the front strap and the underside of the trigger guard has been deeply grooved to achieve a maximum high shooting hand position. The sheet steel magazines hold 17 rounds. The double action/single action trigger with a pull weight of around 157 oz/4450 g in double action mode and 69 oz/1960 g in single action has a straight trigger blade with a fine laser-textured surface, in combination with a skeletonized, lightweight hammer. The slide stop lever features a wide operating surface, which improves handling under stress. The barrel is 4.4"/112 mm long. The slide has rear and front serrations and a robust, photoluminescent metal rear sight, which also forgives one-handed belt-cocking, for example.
Price: 1695 euro. There is also the more compact P229 NXT with 4.0"/102 mm barrel length and 15-round magazine.
P320 Carry HD – Rugged and compact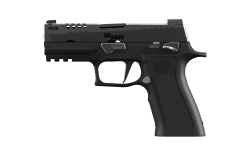 The trio of new pistols from SIG Sauer is completed by the P320 Carry HD (Heavy Duty) model in 9 mm Luger. This "Made in Germany" P320 impresses with its size, which make it ideal for concealed carry. The polymer grip with lanyard ring holds a double-stack magazine with a generous capacity of 17 cartridges. The striker fired system without external hammer and with straight trigger blade ensures a practical trigger pull weight of 3400 grams and is combined with an ambidextrous manual safety for perfectly safe handling in all situations. The slide, which houses the 3.9"/99 mm barrel, is ready for the mounting of a mini red dot sight and features weight-reducing milled cutouts in the front area. The P320 Carry HD is also equipped with the new photoluminescent special sights, which facilitates target acquisition in adverse lighting conditions. Price: 999 euro. 
The new pistols from SIG Sauer can be ordered immediately and will be delivered from May 2020, the manufacturer promises. We are looking forward to the first test weapons.