A great classic: SIG Sauer has just released an "American Made" version of its P210 Standard Pistol. Firstly introduced in 1947, the SIG Sauer P210 was the issue handgun of the Swiss Military and police from 1949 to 1975 replacing none other than the Luger Parabellum 06/29 – another legend in itself. Regarded as one of the most refined and accurate firearms in the world, the P210 was derived from the French Modèle 1935A pistol and based on Charles Petter's design. The new American Made P210 Standard is not a mere copy of the original pistol but features modern improvements, including upgraded ergonomic controls with a relocated manual thumb-safety for easier accessibility.
SIG Sauer P210 Standard, Swiss and German heritage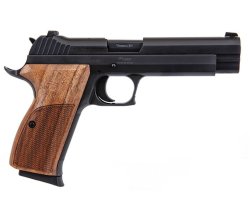 The SIG Sauer P210 Standard is a 9mm hammer-fired pistol, with a precision machined stainless steel slide and frame, featuring a target grade trigger, custom walnut grips, a side magazine release, and improved beavertail. The barrel is 5" / 127 mm long. The pistol sports a nice nitron finish and comes standard with two 8-round steel magazines.  
"The SIG Sauer P210 Standard is an engineering marvel, and with this launch our product development has really come full circle in bringing our production of all SIG products back to the U.S.  The P210 Standard combines the Swiss and German heritage that made this pistol legendary, with the ingenuity of being American made," said Tom Taylor, Chief Marketing Officer and Executive Vice President, Commercial Sales.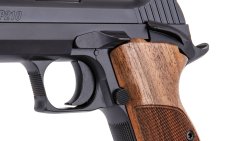 "The reverse rail on this pistol gives it precise accuracy.  The thin contour grip, and balance in weight gives it less felt recoil, and the tuned, short trigger press truly makes this one of the finest handguns ever made."  
MRSP has not been confirmed yet, but according to SIG's press release it should be interesting enough to "allow more consumers to enjoy this timeless pistol."
SIG Sauer P210 Standard: technical data
| | |
| --- | --- |
| Type:  | semi-automatic pistol |
| Caliber:  | 9mm Luger |
| Barrel length:  | 5" / 127 mm |
| Overall length:  | 8.4" / 213 mm |
| Weight (incl. magazine):  | 36.9 oz. / 1046 g |
| Finish:  | nitron   |
| Sight radius:  | 6.7" / 170 mm |
| Magazine capacity:  | 8 |
| Price:  | TBA |