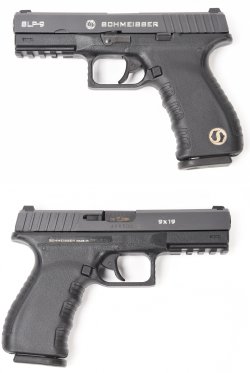 The German-based Schmeisser GmbH company − currently a popular name among European sport shooters thanks to its line of high-quality AR-15 type modern sporting rifles − is entering the handguns market with a clever product.
First showcased in north America in the late 2015 and then officially introduced to the international markets at the 2016 editions of the SHOT Show and IWA expos, the SLP-9 is Schmeisser's first semi-automatic handgun − a 9mm caliber striker-fired design conceived for personal protection, concealed and open carry, service/duty purposes, home and property defense, leisure shooting, target practice, and even IDPA matches.
The Schmeisser SLP-9 is not exactly a new entry on the international market: the same design has been in production for some years as the TM-9; its manufacturer, the TARA Perfection D.O.O. company headquartered in Mojkovac (Montenegro) has indeed achieved some civilian and MIL/LE sales around the globe, but the Schmeisser brand is definitely due to boost those numbers.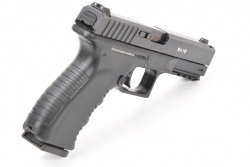 The TARA Group has a decades-long experience in the field of aerospace and defence products, and employs state-of-the-art manufacturing technologies; being based in Montenegro, it is also capable to offer high quality at a fraction of the cost if compared to its most direct competitors.
The Schmeisser SLP-9 semi-automatic pistol is built around a black stainless steel machined slide with dovetailed three-dot front and rear sights; and a reinforced polymer frame available in black, desert tan and olive drab green variants, featuring a MIL-STD-1913 Picatinny rail for tactical accessories and three interchangeable grip backstraps.
The SLP-9 is a Browning-system locked breech, striker-fired semi-automatic firearm, featuring a 113 mm long (4.4" approx.) barrel with a right-handed, six-grooves polygon rifling (1 pitch in 250mm/9"); its extreme low bore axis − 25 mm, or 0.98" − allows the design to maintain low recoil and muzzle climb levels.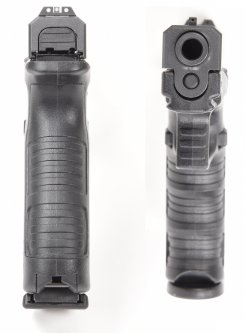 The Schmeisser SLP-9 pistol also features a peculiar light double-action trigger dubbed the DARE ("Double Action Rapid Engagement").

The first shot required a 3,5 kg (7.71 pounds) trigger pull and a 10mm/0.39" trigger travel, but the striker resets after a 3mm release afterwards, allowing fast precision taps after the first round fired in DA; the DARE trigger also provides a second-strike capability in the event of a misfire.
The Schmeisser SLP-9 offers a set of passive safety systems in lieu of any manual safety, and feeds through double-stack magazines holding 17 rounds of 9x19mm caliber ammunition. The SLP-9 magazines feature a polymer floor plate and a corrosion-proof steel body offering a special anti-friction  coating to provide maximum speed and durability in real-world scenarios.

The magazine release device of the SLP-9 pistol − push-button style, a departure from the paddle-style release device that's typical of modern German pistols − is ambidextrous, while the slide stop release lever and the takedown lever are located on the left side of the frame; this last one is a very simple, throw-down device that makes field-stripping extremely simple if compared with other striker-fired pistol designs.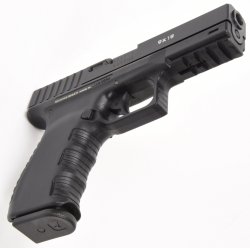 The Schmeisser SLP-9 semi-automatic pistol is 187mm/7.36" long overall, and its weight ranges barely around 950 grams (33.5oz.) with a full magazine. But technical features aside, the SLP-9 has something else going for it: the price.

While there is no current indication concerning availability and pricing in Europe or in other areas, the MSRP announced at the 2016 SHOT Show for the United States ranges around $499 and $550 (that's between 437,52 and 482,24 Euros at the current exchange rate), while it should top C$750 (approx. 506,54 Euros) in Canada: this qualifies the Schmeisser SLP-9 semi-automatic pistol as an excellent alternative to Glock, both in price and quality − something that many tried to achieve so far, mostly failing. Will Schmeisser succeed?