Another welcome and long-awaited addition for Ruger's Super Redhawk family, that now comprises a 10mm option too.
The Super Redhawk was already available in .44 Rem Mag, .454 Casull, .480 Ruger and .41 Rem Mag chamberings. The new 10mm version shares the same technical features of this massive line: it's a six-shot, single/double action, corrosion-resistant stainless steel wheelgun with a strong extended frame with extra metal in top strap, sidewalls and barrel mounting areas that allows the gun to handle powerful, big game loads.
Its triple-locking cylinder is locked into the frame at the front, rear and bottom for more positive alignment. A patented transfer bar mechanism provides a measure of security against accidental discharge. A recoil cushioning rubber grip with an internal recoil cushion positioned under the web of the hand helps reduce the impact of powerful loads, while peg-style grip frame easily accommodates custom grips. A nice touch, the grips have the typical Ruger hardwood inserts that add some warmth to the all-stainless steel look of this handgun. 

Technical Data: Ruger 10mm Super Redhawk
| | |
| --- | --- |
| Model: | Super Redhawk  |
| Caliber:  | 10mm |
| Capacity: | 6 rounds |
| Weight: | 54 oz. / 1502 g |
| Barrel Length: | 6.50" / 165 mm |
| Overall Length: | 12" / 304 mm |
| Finish: | Satin Stainless |
| Grip: | Cushioned Rubber with Hardwood Insert |
| Price:  | $ 1159.00 / € 995 |
Ruger 10mm Super Redhawk: good for hunting too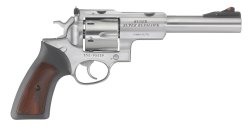 The cold hammer-forged barrel is 6.50" (165mm) long with 6 grooves, for an overall length of 12" (304mm). What's interesting for hunters, patented integral mounts are machined directly on the solid-steel barrel rib to provide a stable mounting surface for the included scope rings, eliminating a potential source of looseness and inaccuracy in the field. The powerful 10mm cartridge, which was developed in the early '80s by Jeff Cooper for semi-automatic pistols, can in fact be used for deer hunting. As a standard, the 10mm Super Redhawk is equipped with an adjustable rear sight and a fixed, replaceable red ramp insert front sight.
Shipped with three full moon clips – that also aid loading and ejection – the new Ruger 10mm Super Redhawk has a suggested retail price of 1,159.00 USD, corresponding to about 995 euro (all taxes excluded).