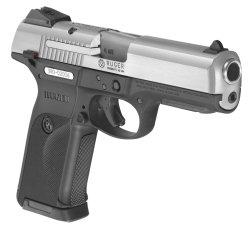 Sturm, Ruger & Co. − one of America's biggest name in civilian-grade gunmaking − launched its first striker-fired, polymer-frame semi-automatic tactical pistol in 2007, as a part of its then-new industrial policy as well as in order to capitalize over a string of local, State and Federal laws and regulations that, starting from the early 2000s and continuing up to date, made it easier for U.S. citizens to obtain a license to carry a gun concealed for personal defense. Ruger's SR9 pistol has been enjoying an almost unexpected commercial success ever since, and so did its .40 Smith & Wesson caliber version − dubbed the SR40 − and their respective compact variants, now highly regarded as excellent, cost-effective choices for sports shooting, duty purposes, and personal/home/property protection. Under this point of view, the SR line of polymer-framed, striker-fired pistols truly carries on the heritage of hellbent quality at a reasonable price that Ruger is proud of and famous for, ever since its line of (now mostly discontinued) double-action revolvers was first launched decades ago.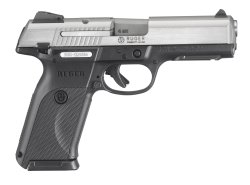 Early in 2013, Ruger decided to listen to its enthusiastic customers, who had been asking for a "serious caliber" version of its polymer-frame, striker-fired pistol platform ever since it was first launched; said request didn't came only from the United States, as one could assume, but also from Europe, as European shooters have grown fond with the stopping power, accuracy and range performanceas of the .45 Automatic Colt Pistol cartridge for quite some time now. Ruger's new pistol, aptly dubbed the SR45, has thus been based upon the same technical layout as the earlier variants: built around a glass-filled nylon frame, it is available in either a black nitride alloy or brushed stainless steel slide version − both with 3-dot adjustable sights − and works with a tried-and-true short-recoil system, with a light double action trigger and an internal striker with a loaded chamber and cocking status indicator. Almost all controls on the Ruger SR45 pistol are ambidextrous: as a matter of fact, the only lever to be located on only one side of the gun is the slide stop/hold-open lever. The Ruger SR45 also comes with a frame-mounted safety, a Glock-style trigger safety and a MIL-STD-1913 "Picatinny" railed frame.
This video has been hidden because of an external service (YouTube) that could potentially collect personal data.Allow video services for the duration of the visitAllow video servicesStop allowing video services
The Ruger SR45 is eight inches long overall, and sports a cold-hammer forged 4.½" barrel. A true full-size in lenght, its just as thin as it can be, being 5.¾" high and merely 1.27-inches wide, and above all, it's 30.15 ounces heavy (empty); this makes the Ruger SR45 pistol a perfectly apt defensive or service instrument to be carried all-day long, either open or concealed, for service or defensive purposes, and with all the confidence that only a 10+1 magazine full of .45 ACP rounds can provide. MSRP for the Ruger SR45 pistolm tops 529.00US$ (about 395.00€), but street price may vary as usual. Availability and pricing for the SR45 outside of the United States is to be inquired about with local and national importers, distributors and retailers; Ruger maintains a detailed authorized international distributors list on its website.