A classic 1911 Series 70 design pistol in 10 mm Auto caliber and made by Ruger? Why not? The cartridge invented in the 1980s by Colonel Jeff Cooper has lately seen a comeback in popularity after some hard time in the past years. Sure, it's costly and not so easy to control by less experienced shooters – especially if compared to the ever-present 9 mm and 45 ACP ammo. But the 10 mm Auto is still regarded as a powerful and hard-hitting option. That's why Ruger decided to produce its first-ever pistol chambered for that caliber. 
Ruger SR1911: a "traditional" 1911 in 10 mm
Ruger already produces the SR1911 in 9 mm and 45 ACP. Like its counterparts in other calibers, the SR1911 in 10 mm is a very traditional, full size design made out of stainless steel with a low glare finish. It features a bushingless stainless steel bull barrel that provides additional weight at the muzzle for improved recoil control, aided by a full length guide rod.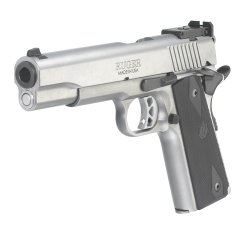 A visual inspection port allows for visual confirmation of a loaded or empty chamber. The six-groove, 5" (130 mm) barrel is also ramped and nitrided for maximum durability.
The oversized beavertail grip safety provides positive function and reliability, while the aluminum, skeletonized trigger has an adjustable over-travel stop and provides a very crisp, light trigger pull with a quick, positive reset. 

The rubberized grip panels (that are replaceable) and the checkered backstrap should offer a very secure hold for the hand. The mainspring housing is flat and the slide shows rear serrations. Precision CNC-controlled machining process results in a superior slide-to-frame fit and smooth slide travel.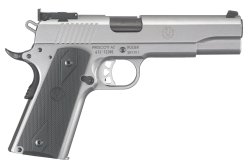 SR1911s in 45 ACP are usually equipped with Novak three dot sights. Instead the 10 mm version sports a blacked out front sight and a fully adjustable, Bomar style rear sight.
Other points of interest are the extended thumb safety and slide stop lever for improved, positive manipulation, the titanium firing pin, the integral plunger tube for slide stop and the non-staked thumb safety. The oversized ejection port and extended magazine release enhance competition performance. Add to this a lightweight skeletonized hammer that provides faster cycling. The Ruger SR1911 uses a single-stack stainless metal magazine with a capacity of eight rounds.
Price of the Ruger SR1911 pistol
Lastly, some bad and good news: unfortunately for left-handed people, all controls are on the left side of the frame; the good news is that Ruger's pistol accepts all standard and aftermarket 1911 parts and accessories.
Secondly, on the US market the Ruger SR1911 has a price tag of $ 1019.00 (MSRP). The bad news is that at the moment there's not yet any information about export availability.