A couple of years after the introduction of the full-size model, Ruger now adds the new Compact version to its Security-9 pistol lineup. With an overall length of 6.5" / 165 mm and weighing in at just under 22 ounces (620 g), the new gun is smaller, lighter and more concealable, so well-suited for everyday carry. Caliber is the ever popular and effective 9mm Luger. The Security-9 Compact pistol is fed by 10-round, flush-fit steel magazines, which provides for greater concealability. One finger grip extension floorplate for added control is included, while extended, 15-round magazines are also available for purchase. 
Ruger Security-9 Compact pistol: an inexpensive carry option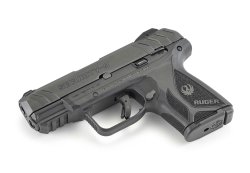 As explained by Ruger, "the Security-9 family shares the same Secure Action used in the LCP II, which is derived from the reliable and proven hammer-fired LCP fire control system. The Secure Action combines the smooth trigger pull of the LCP with the short, crisp feel and positive reset of a single-action."
The rigid, precision-machined, hard-coat anodized aluminum chassis the gun is constructed around is characterized by full-length guide rails. The slide with front cocking serrations and 3.42" / 87 mm barrel are blued, hardened alloy steel. The textured grip frame is glass-filled nylon.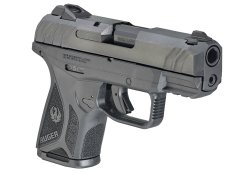 An integrated trigger safety, external manual safety, neutrally balanced sear with significant engagement and strong spring tension and hammer catch to help prevent the hammer from contacting the firing pin unless the trigger is pulled are the pistol's safety features.  
Sights consist of a dovetailed, high-visibility system with drift adjustable rear sight and fixed front sight. They can be easily changed out for different color options (available separately).
Proudly American-made and shipped with two alloy steel magazines and one finger grip extension floorplate, the Ruger Security-9 pistol is priced at 379 USD (MRSP): as usual, an interesting and inexpensive everyday-carry option from the Southport-based company.
Ruger Security-9 Compact: technical data
| | |
| --- | --- |
| Model:  | Security-9 Compact |
| Barrel Length:  | 3.42" / 87 mm |
| Overall length:  | 6.52" / 165 mm  |
| Weight:  | 21.9 oz / 620 g |
| Sights:  | drift adjustable |
| Magazine capacity:  | 10 |
| Price (MSRP):  | 379 USD |