Ruger Firearms is still expanding its revolver line. After adding in a matter of weeks a 9mm version to its popular SP101 family and a 10mm version of the Super Redhawk, now it's the turn of the GP100 with a seven-round capacity model. 
 7 shot Ruger GP100: technical features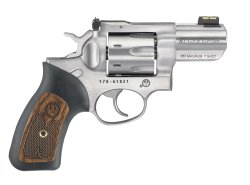 The seven-shot GP100 is a stainless steel wheelgun chambered in .357 Magnum. The new model is available in 2.50" (63 mm), 4.20" (106 mm) and 6" (152 mm) barrel lengths and feature one-piece rubber grips with hardwood inserts (a Ruger trademark), together with  adjustable rear sights and fiber optic front sights.
The other technical features are the same of its six-round siblings: the triple-locking cylinder is locked into the frame at the front, rear and bottom for more positive alignment and takedown of integrated subassemblies requires no special tools, allowing for easy maintenance and assembly.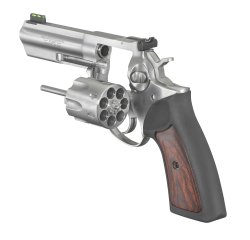 Till now, a seven-shot version of the GP100 had been offered only in .327 Federal Magnum, a version now discontinued. Ruger keeps in catalogue a couple 10-round GP100 variants too, but they are chambered in .22 LR – so, a different kettle of fish.
If you want to buy a .357 Magnum, seven-round GP100 the price to pay is 899.00 USD (some 760 euro), regardless of the barrel length.