Ruger already offered "birdshead" grips on its revolvers, including the Single-Six, Vaquero and Blackhawk models. New for 2022, come three additional models of the .22 LR Wrangler line of single-action revolvers featuring a Birdshead-pattern grip frame. In the Old West (and elsewhere) revolvers with such grips – like the Colt M1877 – were quite popular. On the other hand, since 2019, when they were introduced, the Ruger .22 LR Wrangler revolvers have been greatly appreciated. So, the Birdshead-Style Wrangler Revolvers were a predictable addition.
Ruger Birdshead-Style Wrangler Revolvers, compact and inexpensive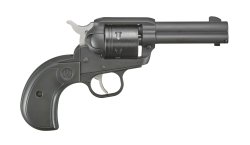 Here is what Ruger has to say about its products: "With the introduction of the Single-Six in 1953, Bill Ruger pioneered the use of modern investment casting in firearms manufacturing to usher in a new level of affordability in single-action revolvers. Through the use of modern CNC-machining methods, lean manufacturing techniques and a new aluminum alloy cylinder frame, the Wrangler continues this tradition and sets a new bar for affordability while maintaining the rugged reliability that is the hallmark of Ruger firearms."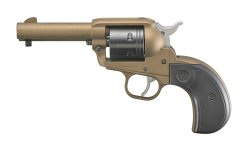 The new compact six-shot models feature a 3.75" cold hammer-forged barrel and are offered in three attractive Cerakote colors: black, silver and burnt bronze. Sights include a blade front and integral notch rear sight. The factory black grip panels can be swapped for aftermarket Ruger Birdshead-pattern grips. 
The Wrangler revolvers feature a transfer bar mechanism and loading gate interlock that provide an effective measure of security against accidental discharge. According to the manufacturer, the revolver will also fit in Single-Six style holsters that accommodate a 3.75" barrel.
A (very) strong poiint of the Wrangler is, no doubt, the price: at $279, just ten bucks more than the standard-grip Wrangler models, the Birdshead-Style Wranglers are an attractive choice. Add to this the affordability of rimfire ammunition, and what you get is what can be considered the perfect "range toys" for those looking for cheap and enjoyable Western-style guns.  

Ruger Birdshead-Style Wrangler Revolvers specs and pricing

| | |
| --- | --- |
| Caliber: | .22 LR |
| Cylinder Capacity:  | 6 rounds |
| Front Sight:  | Blade |
| Rear Sight:  | Integral |
| Barrel Length:  | 3.75" |
| Barrel Twist:  | 1:14" RH |
| Overall Length:  | 8.62" |
| Weight:  | 28 oz. |
| Cylinder Frame Material:  | Aluminum alloy |
| Grips:  | Birdshead synthetic |
| Price (MSRP):  | $279 |