For a long, long time an "FN-only" affair (FN Herstal introduced it in 1990, more than 30 years ago!), lately the 5.7x28 mm cartridge is slowly gaining momentum in the civilian market.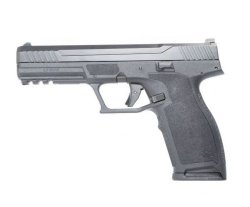 More and more popular manufacturers such as Ruger are in fact offering guns chambered in that caliber, and now it's the turn of Palmetto State Armory with its 5.7 Rock, a full-sized polymer-framed pistol in 5.7x28. 
The Rock was already introduced some months ago at SHOT Show 2022, but it has been actually released to the U.S. market only this week.
PSA 5.7 Rock, ergonomics and controllability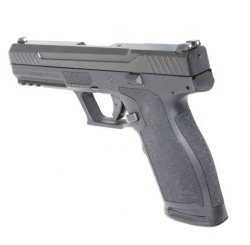 "The PSA 5.7 Rock introduces game-changing ergonomics and controllability. Made from high-quality 416 stainless steel and advanced polymers, this pistol lives up to today's highest expectations while maintaining the unmatched Palmetto State Armory value," they say in a press release.
The pistol is operated by a single-action striker-fired trigger mechanism and is fed by a high-capacity 23-round magazine. (Regarding the magazine, Palmetto State Armory warns that while it will fit in a Ruger 5.7 magwell, they cannot guarantee it will function in a Ruger 5.7 pistol.)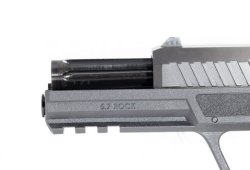 The 4.7" barrel is made from carbon steel and fluted. Slide is 416 Stainless Steel, while frame grip is polymer. The ergonomic grip shows an aggressive texturing for a safer hold. 
Barrel and slide also have a  QPQ  (Quench Polish Quench) finish – the same as Tenifer and Melonite, a type of nitrocarburizing case hardening that provides both a smooth finish and maximum corrosion protection. The new PSA gun features trigger and striker safeties, reversible magazine release and the usual dust cover Picatinny accessory rail: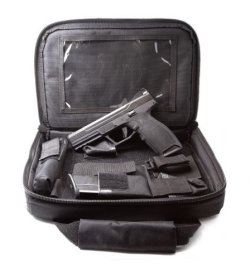 The PSA 5.7 Rock is equipped with steel 3-dot sights that can be replaced with Glock compatible sights. According to the manufacturer, another version that's both optics cut and with threaded barrel should follow soon.

The new Palmetto State Armory 5.7 Rock pistol in 5.7x28 is available on the U.S. market starting from last May 12th. 
For a price of $499, the 5.7 Rock is shipped with two 23-round magazines and a PSA Dagger soft pistol case.
So, with this further new option which adds to other manufacturers' offers gone are the days when if you wanted to fire the 5.7x28 mm cartridge you could choose between just two guns from one single manufacturer (namely, the PS90 carbine and the Five-seveN pistol, both from FN)...
PSA  5.7 Rock pistol technical specifications and price
| | |
| --- | --- |
| Caliber:  | 5.7x28 mm |
| Magazine Capacity:  | 23+1 |
| Barrel Length:  | 4.7" |
| Barrel Twist Rate:  | 1/9" |
| Weight (with Empty Mag:):  | 25 oz/708 g |
| Action: | Delayed blowback striker-fired |
| Sights: | 3-dot type, designed to work with Glock compatible sights |
| Price:  | $499 |