Article also available in other languages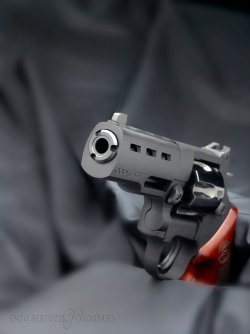 Enzo Bertuzzi for Fabbrica d'Armi Olmi G.
Headquartered in the small town of Polameno, in the northern-Italian province of Brescia, the "Fabbrica d'Armi Olmi G." company is an almost total unknown name to the general public, despite having been on the business since 1973. As a matter of fact, the Olmi factory never produced a complete gun on its own, devoting instead all its manufacturing capabilities to become an essential contractor for parts and components for the biggest Italian name in firearms, not to mention one of the biggest and most ancient in the world: Beretta. The company had thus forty years to perfectly master the technical know-how in gunmaking and to achieve the highest levels in manufacturing technologies; that's why, when they showed up at the 2013 edition of the EXA arms expo in Brescia (Italy) last April, with quite an important booth, their prototypes were so appealing that they quickly became the hottest new product of the show. And, as a matter of fact, Olmi's new gun, a revolver dubbed the 963 MF, has a lot going for it. There's nothing major in their working system − they are the average double-action revolvers, as far as it concerns the firing mechanism − but since revolvers are not exactly what the general public thinks of when it comes to Italian arms manufacturing (apart from some quite eclectic novelties such as the MA.TE.BA and the Chiappa "Rhino"), Olmi had to do something to make it special.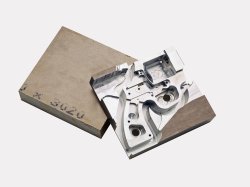 Enzo Bertuzzi for Fabbrica d'Armi Olmi G.
There was no real point in trying to modify a centuries-old, tried-and-true working principle, so the company decided to base their work on some hard facts. First of all, even with all the semi-automatic pistols around, the revolver is still a prime choice for personal, home and property defense out there, in Italy, in Europe, in the United States and worldwide. Their Police use is minimal nowadays, but they still see some popularity between private security guard, they are well received by sports shooters, and are the first choice for less experienced civilians seeking a quick-to-learn, easy-to-operate, always-ready gun to be kept at the bedside, under the counter, or in a purse, for personal protection, for defense against home invaders or robbers. Said users will probably carry their guns around all day long, and carrying a gun can be a real pain if it's too heavy and generally not enough user-friendly. That's what the Olmi engineers focused on.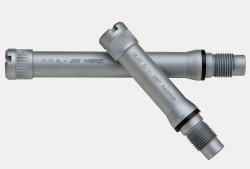 Enzo Bertuzzi for Fabbrica d'Armi Olmi G.
The company decided to make their product stand among all others by its lighter weight without compromising balance and steadiness, both important qualities when it comes to shoot a round. That's why they decided to greatly discard stainless steel, yet to go for something slightly heavier and more stable than polymer, that being, the 7075-T651 aircraft-grade aluminium alloy, commercially known as ERGAL and no stranger to the arms industry, being a close relative to the aluminium alloy used by manufacturers in America and worldwide to forge uppers and lowers for AR-15 series rifles and carbines (M16/M4-type assault rifles included) as well as by Beretta to produce the frames for the 92 series pistols. As a matter of fact, the Olmi 963 MF revolver frame is entirely manufactured in 7075-T651 ERGAL; no forging, no metal injection molding, no similar procedure is used, as all of them can lead to the formation of flaws, imperfections, air blisters or other small defects that may negatively affect the overall solidity of the product; all parts are machined out of a solid billet, through state-of-the-art CNC machineries. The same procedure is used to manufacture the ventilated barrel sleeve, and even the grip panels, that are machined out of a solid wood ingot that's later ergonomically shaped, checkered and stamped with Athena's head, the trade mark of the Olmi company. By encasing the barrel in a ventilated sleeve rather than leaving it bare as it is in most of revolvers out there, the company achieved longer service life for said component, and a higher level of protection against environmental factors and other aggressive elements.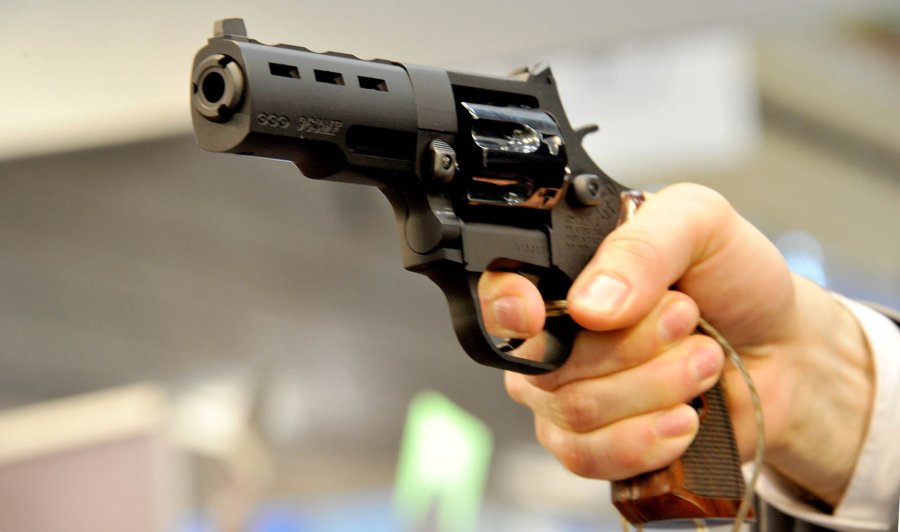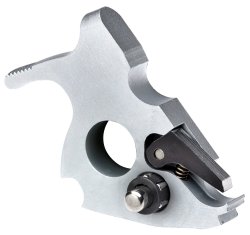 Enzo Bertuzzi for Fabbrica d'Armi Olmi G.
Not that the barrel actually needs extra protection, as it is made on order in Germany by Lothar Walther, out of Krupp-supplied steel: the overall best there is today on the market, and the best on a revolver, worldwide. Same goes for the revolving cylinder, which is available in six-shots and seven-shots variants, as the Olmi engineers thought that an extra round may make the difference in defensive shooting situations, especially if the user isn't quite a true expert or if adrenaline kicks in a little too rough − it can happen in the stress of a gunfight following a sudden aggression. Barrels and cylinders can be however removed and replaced with other versions according to the user's own needs and tastes − barrel lenghts available include 2.5 inches, 4 inches and 6 inches − and metal spacers can be added to reduce or increase the gap between the barrel and the cylinder so to modulate the intensity of the muzzle and cylinder flash. Other smaller parts are precision-made at the Olmi factory out of stainless steel, including the hammer and the trigger, all mechanical components and moving parts, the ejector rod, the adjustable sights and the cylinder release buttons.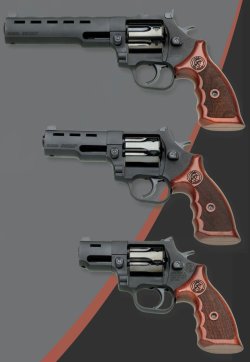 Enzo Bertuzzi for Fabbrica d'Armi Olmi G.
The Olmi 963 MF revolver's cylinder is opened for reloading by applying pressure on two buttons at the same time: the rear one, in the standard position behind the shield, is to be pushed forward with the right hand thumb, while the other, located just in front of the cylinder itself, is to be pushed downwards with the left thumb. Such a system may in fact slow down the reloading process a little bit − and that's probably what the Olmi engineers thought about when they decided to add a seventh round to the cylinder − but it also represents an important safety measure, as both unexperienced shooters and way more slick, world-wise veterans may, under stress conditions, apply an excessive pressure to the rear button alone, resulting in an accidental release of the cylinder, with the well-known, disastrous consequences it will bring, be it a simple "click" − bad enough on the shooting range, literally deadly when it comes to fight for your life! − or a catastrophic out-of-battery ignition. One last important feature on the Olmi revolver is the finish: all 963 MF models will come standard with a GK-finish coating, a MIL-STD nanoceramic process used by the U.S. Army and Navy that grants superior protection against water, moisture, environmental hazards and scratching and is available in a plethora of colors, ranging from black to grey, OD green, desert tan, white, or even gold.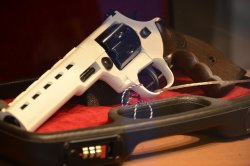 All in all, it looks like the Olmi arms factory succeeded in its intent: the model 963 MF revolver weighs barely from 23 to 30 ounces empty, depending from the caliber and the barrel lenght, while at the same time remaining sturdy and stable, perfectly able to handle even the hottest loads for all the three calibers it will be offered in, these being .38 Special, .357 Magnum and, in the near future, even .44 Magnum − the world's most popular revolver chamberings when it comes to sports shooting, duty and defense. As you write this brief review, the Olmi factory is gearing up to finish the last samples in the final batch of production-grade 963 MF revolvers. The Olmi 963 MF should first of all hit the market in Italy, sometimes in the second half of 2013. Manufacturer's suggested retail price tops around 1000 Euros: more than what shooters would pay for, to say, a Taurus, but way less than what a Smith & Wesson goes for in Europe nowadays, and after all, a good price for the technical and quality levels the Olmi 963 MF revolver achieves. We can't help but wishing the Olmi company the best luck for their efforts; rest assured that, as soon as ALL4SHOOTERS.COM will be able to lay hands over a production-grade model, we will publish a deeper insight and test about this brilliant piece of gun engineering and manufacturing.