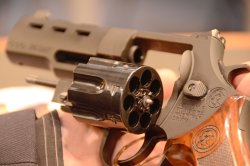 The Giuseppe Olmi Weapons Factory was founded in 1973 as a supplier of high quality semi-finished products and components; its capacities in the field of precise mechanical processing supported by the mastery of its most modern numerical control systems have allowed it to become, in a short period, one of the most appreciated companies by the Italian armory industry as well as a privileged partner for Beretta.
In 2013, Olmi has finally "taken off", and has done so with a weapon that combines tradition with the most modern canons of construction: the 963 MF model, a single-double mixed action shooting that is characterized by the seven-shot cylinder and the three available calibers - .38-Special, .357-Magnum and .44-Magnum – and for the construction that is almost completely made of ERGAL, the stabilized and hardened aeronautic aluminum alloy that is universally known to be used in the production of Beretta 92 stocks; the ventilated sheath is also made of ERGAL and intubates the stainless steel barrel by Lothar Walther with steel supplied by Krupp, which is available in two and a half inch, four inch and six inch versions.
In addition to having a clean and precise shooting, high-visibility sight markings, a handle made of solid wood with excellent ergonomics and a cylinder with double-lever opening system for increased safety, the Olmi 963 MF revolver is characterized for its extremely solid construction, since the stock and the barrel sheath are machined from ERGAL blocks, so not with die casting or reverse molding, techniques that could promote the formation of blow holes (micro air bubbles) that could negatively influence the resistance of the structure in the long term. This is done while keeping a very low total weight: starting at 645 grams for the two and a half-inch barrel version up to a maximum of 860 grams for the six-inch barrel version.
The Olmi 963 MF revolver uses three different anti-friction systems to keep the armament and shooting stable and responsive, and is available in the black or different finish versions including olive green, "desert tan", grey, white and even gold, made with the application of a protective coating known as GK, in compliance with the MIL and used by the American Army and Marina.