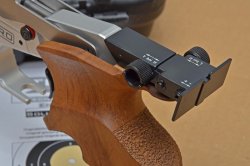 Tesro stands for Technology Shooting Römer: the German company was founded in the 2000s by Peter Römer, a technician and designer who worked for Walther for over 20 years. Once he abandoned his career at Walther, Peter Römer set up his own business dedicating himself to those that have always been his favorite guns, namely sports pistols and rifles.
Today Tesro is a small but solid company – known and appreciated in Germany, a little less abroad – that offers high quality and precision products at reasonable prices.
We introduce two interesting air pistols, intended for 10m shooting: the Pro and Signum models.

Two custom-made sports pistols for 10m shooting 

There is little talk of pre-charged pneumatic air guns for competitive shooting, and it's a shame because in this area the research by companies is continuous and many of the technical solutions adopted to achieve maximum accuracy and ergonomics deserve to be studied or even simply observed. In their own small way, these guns offer all the features needed to compete in the P10 category and absolute intrinsic accuracy.
But let's start from the beginning: the Signum and Pro are very similar but not the same. First of all, we will describe their common features, dwelling from time to time on the differences.
Chambered in 4.5mm caliber, both guns are equipped with a 9.25" / 235 mm Lothar Walther barrel: in the Pro model the barrel is naked and fluted, while on the Signum model the barrel is not fluted and is covered by an aluminum sleeve. Both have a 300 bar air cylinder, which extends the operating range of the weapon.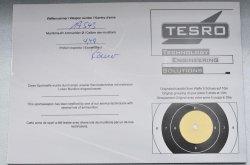 Just below the cylinder there is a steel bar on which sliding and movable weights can be mounted, in order to adjust the balance of the gun to the shooter. The sight is a small engineering masterpiece and can be adjusted completely by hand without any tools. An Allen key is only required to adjust the opening of the notch, ranging from 3.3 to 5 millimeters. The front sight can be easily moved into three different positions. The Pro features a conical double chamber muzzle compensator while in the Signum the compensation ports are cut directly in the sleeve. Ergonomically speaking, the ease and smoothness with which the loading breach can be operated is also appreciable.
The two Tesro P10 pistols come with walnut wood 3D grip that's produced in Italy with no expense spared. Retail price, which is the same for both models, is 1580 Euro.

Tesro air pistols: technical data
| | |
| --- | --- |
| Manufacturer | Tesro Sportwaffen www.tesro.de |
| Models  | Pro / Signum |
| Type | match air gun pistols |
| Caliber | 4.5 mm |
| Air supply  | pre-compressed  |
| Air cylinder  | 300 bar |
| Barrel | Pro: Lothar Walther, fluted / Signum: Lothar Walther, full  |
| Barrel length | 9.25" / 235 mm |
| Sight radius (adjustable) | 13-13.7-14.5 in (330-349-368 mm) |
| Weight  | 17.6 oz / 500 grams |
| Barrel sleeve  | Pro: no / Signum: yes (aluminum) |
| Grip  | walnut, 3D  |
| Price  | 1580 euro |