Last year Ruger announced its own Custom Shop, and since then the latter has been steadily producing enhanced, upgraded and accurized versions of Ruger's products since. Now it's the turn of a very popular evergreen, the GP100 revolver. The new Custom Shop Super GP100 Competition Revolver "takes the traditional Ruger revolver to the next level and is ready to compete, right out of the box," according to the manufacturer.
An evolution of the earlier Security Six double-action revolver, the GP100 was introduced by Ruger in the mid 1980s. Over the time it's been produced in a number of variations including various barrel lengths and finishes.  Specifically designed for the .357 Magnum caliber, it has been chambered in other calibers too, such as the .10 Auto and .22 Long Rifle. 
Ruger Custom Shop Super GP100 Competition Revolver, smooth and reliable
The new Ruger Custom Shop Super GP100 is a 8-round competition revolver chambered in .357 Magnum with factory-tuned action and pleasing ergonomics. The Custom Shop Super GP100 Competition Revolver features polished and optimized internals , a centering boss on the trigger and centering shims on the hammer, which combine to produce a smooth, double-action trigger pull and a crisp, consistent let-off. The adjustable rear sight and quick-change fiber optic front sight create a great sight picture for rapid target acquisition.
The stainless steel frame, cylinder and barrel are PVD coated to provide corrosion resistance, durability and reliability. Action is the same of the well-known and appreciated Super Redhawk model, but the Super GP100 adds a two-spring lockwork arrangement providing an even double-action cycle and reliable ignition .
The half-lug 5.50" sleeve and shroud barrel is contoured for fast manual ejection and features an 11° target crown for competitive-level accuracy. To help reduce overall weight and improve balance, the new revolver sports aesthetic cuts in the barrel shroud and cylinder. The cylinder and extractor are cut for moon clips to speed reloading during intense competition.
The revolver is equipped with a Hogue wood grip, which is hand polished to a smooth finish. The peg-style grip frame also easily accommodates custom Super Redhawk or GP100 grips.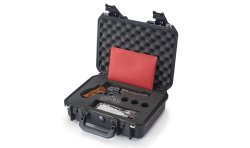 A nice touch, the revolver ships in a waterproof fitted hard case .  Three moon clips, a Ruger Custom Shop Certificate of Authenticity, challenge coin, cleaning cloth, gun peg and decal are included. "The Ruger Custom Shop continues to produce competition-ready firearms," said Ruger President and CEO Chris Killoy. "The new Super GP100 is yet another example of our Custom Shop's fine craftsmanship, and will allow our customers to compete at the highest levels."
Suggested retail price in the US is 1549 USD, or 1387 euro approx – but prices may vary in your country due to local taxes.