92X Performance Production: a new variant of the Beretta 92/98 series

To the delight of its fans, Beretta recently introduced some new versions of the US-manufactured 92X pistol. The 92X Performance Production in 9mm is a "Formula One" version of the best-selling and very popular 92/98 series.
Thanks to a Vertec frame (i.e., featuring a straight backstrap) made from steel instead of light alloy, the 92X Performance Production weighs a full 47.6 oz / 1350 grams and is therefore much more controllable. The slide is of the Brigadier type, that is reinforced in correspondence of the locking block.

The Beretta 92X Series pistols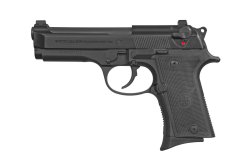 Besides the 92X Performance, three "Made in USA" variants of the 92X Series named 92X Full Size, 92X Centurion and 92 Compact are also available. All three are built on a Vertec-type frame with straight backstrap, oval trigger guard (like the 92 SB) and Picatinny rail on the dust cover. Sights are easily interchangeable and all the Vertec-compatible grips can be mounted on the frame.  Standard grips and backstrap are newly designed, more gripping and suitable for small to medium hands. All 92X series pistols can be used in a safety-decocker mode (FS) or can be converted to perform a decocker-only (G) function.
Let's now see the main differences between the three models:
The 92X Full Size, as the name suggests, is a full size version: we have therefore a 4.7"/ 119 mm barrel for a overall length of 8.5"/ 216 mm. The double-stack magazine holds 17 rounds and the weight of the gun unloaded is 33.3 oz / 945 grams (unloaded).
The 92X Centurion is slightly shorter, with a 4.25"/ 108 mm barrel for an overall length of 7.75"/ 197 mm. Magazine capacity is still 17 rounds and the weight is 28.5 oz / 808 grams.
Finally, the 92X Compact is the smallest model in the series, with a small frame grip that houses a 13-round double-stack magazine. The barrel is 4.25"/ 108 millimeters long for a weight of 27.2 oz / 771 grams. A feature of the Compact is that it is also available in a version without the front Picatinny rail.
To discover all the features of the Beretta 92X Performance Production we invite you to watch our video.
VIDEO: Beretta 92X Performance Production in 9mm caliber
This video has been hidden because of an external service (YouTube) that could potentially collect personal data.Allow video services for the duration of the visitAllow video servicesStop allowing video services