The Gadsden Flag with the coiled rattlesnake and the motto "Don't tread on me", together with the "Liberty or Death" slogan, are two powerful symbols of the American never-ending struggle for independence and freedom. And that's exactly what is engraved on both sides of Auto-Ordnance latest commemorative pistol, the custom Liberty 1911.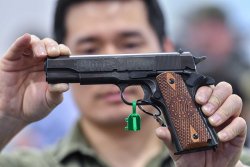 Franco Palamaro, © F.PALAMARO
Thompson Auto-Ordnance is well-known among firearms enthusiasts for its "Tommy Gun" and other classic firearms, especially with  patriotic-themes engravings and finishes.
Designed to echo  "the sentiments of our Founding Fathers in warning all tyrants to tread on American liberty at their peril" , the new Liberty 1911 starts as an Auto-Ordnance GI Model 1911, proudly made in the United States. It sports the "Liberty...Death" words on the right side of the slide, set around the original Presidential Seal, while the left side of the slide has the words "Don't...Tread", surrounded by the snake from the Gadsden Flag. 

Auto-Ordnance Liberty 1911, a "GI" 1911.
Other features of what is a very classic, true-to-the-archetype 1911 pistol include a 5" barrel and GI sights with blade front sight and drift-adjustable rear sight.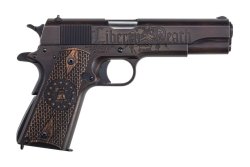 Custom Goncalo wood grips are embellished with 13 stars surrounding the Liberty Bell on the right panel and "DTOM" on the left – for those not accustomed with US culture, the Philadelphia Liberty Bell is another symbol of American independence, while DTOM stands for "Don't tread on me". The finish is a custom Cerakote mix of Brown and Black for a "vintage" look. Needless to say, caliber is the .45 ACP.
The new Liberty 1911 ships with a seven round magazine and has an MSRP of 1215 USD.