Good news from Brazil for GLOCK: with a press release, GLOCK America announced that "after extensive testing, the Procurement Service of PMESP – Polícia Militar do Estado de São Paulo (the São Paulo State Military Police) has declared the GLOCK 22 as the winner of its international solicitation". Fixe thousand service pistols will be provided for the Special Forces CHOQUE, COE, GATE and ROTA. 
It was the first time that Brazilian law enforcement agencies solicited contenders from international sources, and besides the GLOCK G22 Gen4 at the end of 2017 two other models were still in line: the Beretta APX and the SIG Sauer P320. Last January GLOCK was asked to supply some pistols to be submitted to a full-test program.

The extensive testing for the solicitation included endurance testing, parts interchangeability testing, precision testing, and drop testing from a distance of 2 meters to simulate pistols being dropped from mounted units and was done from six different angles, totaling 64 drops. The endurance testing consisted of 10,000 rounds on each of four test pistols without cleaning or lubrication during the test.  As GLOCK America's Managing Director Patrick Voller  explains, "All tests were implemented in a very transparent and public manner as any interested party could participate in these tests as observers."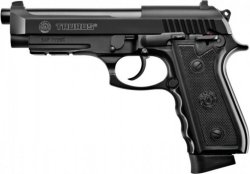 The new guns will replace the Taurus PT100 and PT101 pistols currently in service. Intriguingly, it seems that all the pistols supplied to São Paulo State Military Police will be a specifically developed version of the GLOCK 22 Gen5 in .40 S&W that besides an ambidextrous slide stop lever and no finger grooves, also feature an ambidextrous manual safety. After the G19 MHS proposed the US military XM17 Modular Handgun System competition, another GLOCK with manual safety?