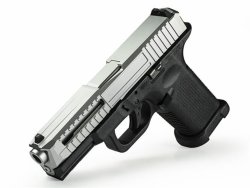 Not just an ordinary pimped-up GLOCK, but a carefully designed and original new pistol line. Lone Wolf Arms, a company specializing in GLOCK aftermarket components since 1998, unveils its Lightweight Tactical Defense (LTD) 9mm pistol line. "With more than two decades of experience providing aftermarket solutions to enhance both performance and aesthetics of the GLOCK-pattern pistol, Lone Wolf Distributors has implemented these into a complete pistol," they explain.
Available in six models including two slide options (with nitride or stainless finish) and "dual tone" versions with gray of black polymer frame, the first LTD pistols to be released in the line are named LTD19 and are in the GLOCK 19 size range. Overall length is in fact 7.16"/182 mm with a 4"/ 102 mm barrel – the original GLOCK 19 is 7.36"/187 mm long. But there is much more. 
GLOCK 19 tuning: Lone Wolf LTD19 pistol, the culmination of experience
First, the frame: the LTD pistols use a slimmer Timberwolf frame which provides a very favorable grip angle. Thanks to a generous, radiused undercut, the Timberwolf frame also eliminates the "GLOCK knuckle" and allows a higher grip lowering bore axis while also distributing recoil impulse safely across the web of the hand. The extended beavertail shields the hand from slide movement and disperses recoil impulse.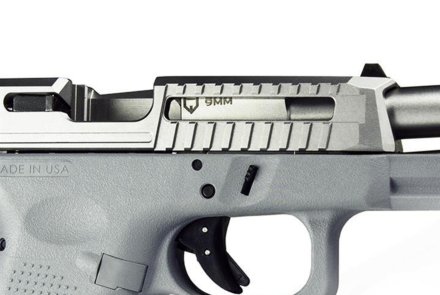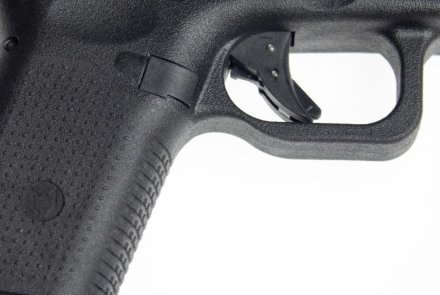 Then, the slide: besides having a very distinctive, angular-cut front design, it has been lightened and offers reduced reciprocating mass. That means both quicker cycling and less perceived recoil. The LTD19 pistol is lighter on the whole, stopping the scale needle at 19 oz/538 g against the 21.16 oz/600 g of a GLOCK 19 (with empty magazine).
Lone Wolf's LTD pistols also feature an enlarged magazine release and enlarged slide stop. The low-profile magazine well itself should accelerate magazine changes while reducing the risk of pinching fingers and palms. Needless to say, the LTD19 series takes GLOCK magazines.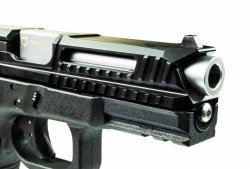 "Lone Wolf Arms has seen trends rise and fall, fielded thousands of customer comments and questions, and learned what truly improves the platform. The LTD is the culmination of that experience and provides the same capacity as its inspiration," they say. As mentioned above, the 9mm LTD19 pistols come in six versions which are mechanically the same but with different aesthetics. Price in the US is $699.95, any version you choose. Only sad note: unfortunately for other countries' gun fans, the LTD19 pistols will be available in the US only.

Lone Wolf LTD19 pistol specs and price
| | |
| --- | --- |
| Manufacturer:  | Lone Wolf Arms, USA |
| Model: | LTD19 |
| Caliber:  | 9x19 (9mm Para) |
| Overall Length:  | 7.16"/182 mm  |
| Barrel Length:  | 4"/102 mm |
| Height Including Magwell:  | 4.77"/121 mm |
| Width:  | 0.99"/25 mm slide, 1.13"/29 mm frame, 1.49"/38 mm magwell |
| Weight (without magazine):  | 19 oz/538 g  |
| Sight Radius:  | 5.9"/150 mm |
| Trigger Pull Weight:  | 6.5 lb/2948 g |
| Price (MSRP):  | 699.95 USD |