Article also available in other languages
The name of Glock is one of the first that all professionals of military and law enforcement think of when it comes to service and defensive handguns. The 2014 edition of the EUROSATORY expo makes no exception, as the Austrian company is introducing its latest models to the number of military, Police and government personalities who gathered at the nord-Villepinte exhibitions center.

The .45 ACP Glock 41 full-size pistol and the .380 ACP Glock 42 subcompact pistol have already been showcased multiple times by the Company during the trade shows of early 2014, and are already available for civilian purchase in most of Europe and north America. The EUROSATORY expo however marks the first time that both models are showcased as exquisitely professional-grade products... and thinking of it, there's plenty of good reasons why they are.
Mostly sold as a civilian sporting pistol, the .45 ACP Glock 41 model feeds through a polymer, double-stack 13-rounds magazine, is 22.6 centimetres long overall and sports a polygon-rifled, 5.31" barrel. It integrates most, if not all, of the well known Gen.4 improvements, including a redimensioned frame, a different grip checkering design and interchangeable grip backstraps, while the MIL-STD-1913 "Picatinny" rail makes it compatible with most tactical accessories out there. 
Combining outstanding accuracy with undeniable stopping power, the Glock 41 could be a desirable handgun for tactical Police operators and military special forces personnel in those situations where size doesn't matter − not that much − but pinpoint accuracy and knockdown capabilities do. In critical situations where first-shot knockdown and maneuverability are paramount (such as, but not limited to, tactical interventions on hijacked aircrafts, passenger buses, or other confined-spaces environments), the Glock 41 has all the required features to take point for real.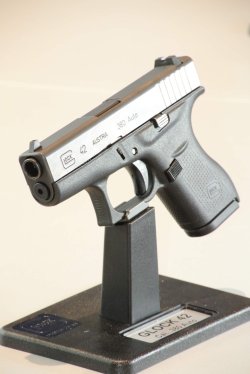 The .380 ACP subcompact Glock 42 is, as of today, the smallest and slimmest pistol ever manufactured by the Austrian company. Feeding through a six-shots, single-stack magazine, the Glock 42 has been conceived for defensive concealed carry by women and otherwise small-built, small-handed shooters; as such, it's merely 151mm long and 24mm wide overall, sporting a 3.¼" polygon-rifled barrel and weighing just a little bit over 400 grams fully loaded − not much more than a toy. 
It sports a Gen.4 grip checkering and an extended beavertail, but comes without interchangeable backstraps and without any sort of Picatinny rail. 
This doesn't make it less viable as a duty pistol though: it has all it takes to perform flawlessly as an issued or individually-purchased police backup or off-duty carry pistol, or as a protection weapon for undercover law enforcement or State security personnel; if properly managed, and if loaded with the right kind of ammunition, the tiny Glock 42 has full potential to stop life-threatening situations... dead in their tracks.

This video has been hidden because of an external service (YouTube) that could potentially collect personal data.Allow video services for the duration of the visitAllow video servicesStop allowing video services