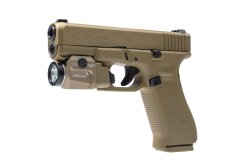 GLOCK Ges.m.b.H., © GLOCK Ges.m.b.H.
In some European countries, this successful combo will be legally available for the military and law enforcement market only, while in other nations it will be available on the commercial civilian market too. As is well known, the GLOCK 19X – released in 2018 – is a "crossover" model because it combines the large G17 Gen5 grip frame without finger grooves, with a slide stop lever on both sides, integrated magwell and four interchangeable backstraps (two of them with extended beavertail), with the short G19 slide with 4"/102 mm barrel length. 
Unlike the nDLC (Diamond Like Carbon) coating of the Gen5 and Tenifer coatings of the Gen4 through Gen1 models, the surface of the G19X is finished with an nPVD (Physical Vapor Deposition) coating. This hard material coating is extremely resistant to environmental conditions, corrosion, chemicals and improves the sliding properties. 
The black hard-coated barrel features the new "Glock Marksman Barrel" (GMB) internal profile and a recessed muzzle crown. The pull weight of the modified Gen5 trigger is around 5.5 lb/2500 grams.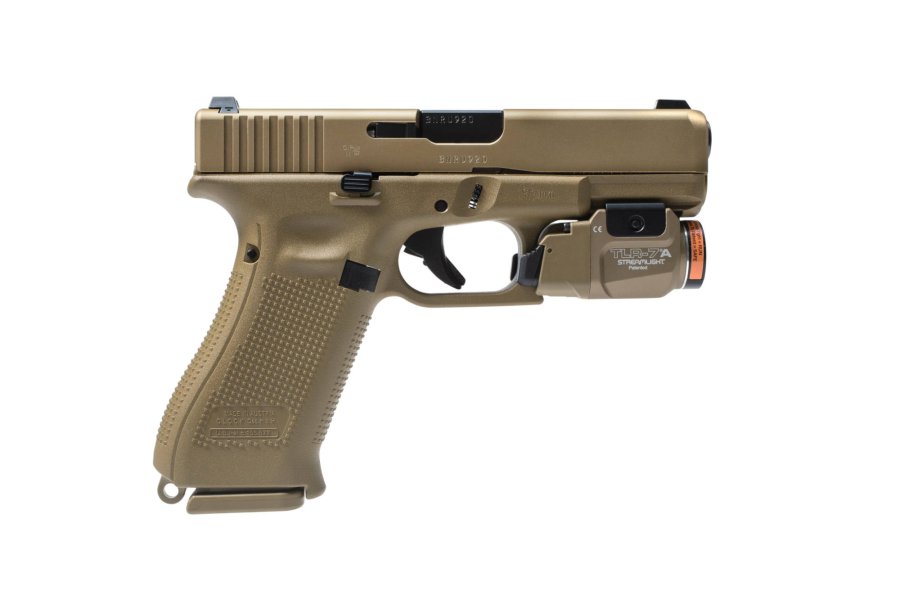 GLOCK Ges.m.b.H., © GLOCK Ges.m.b.H.
GLOCK Ges.m.b.H., © GLOCK Ges.m.b.H.
An illuminating combo: GLOCK 19X with Streamlight TLR-7AH weapon light

The GLOCK 19X gets a combat boost from the Streamlight TLR-7AH LED gun light fitted to the frame's mounting rail, because it means it's best suited for use in the dark. Specialized "low light" shooting techniques, such as the one the author learned from the experts at Strategos International, for example, can of course also be used with a combination of handgun and handheld baton flashlight.

The Streamlight TLR-7AH, which weighs about 2.4 oz/68 grams and has an aluminum housing anodized in FDE, is powered by a CR123A lithium battery, has a practically designed tail switch that can be operated from both sides, and a 500-lumen light-emitting diode with strobe function. The G19X in combination with the Streamlight TLR-7AH comes with a standard 17-round magazine that is flush with the grip and two additional, extended magazines with a capacity of 19 rounds in a plastic case that is also color-matched.

More new products from GLOCK in our video interview: