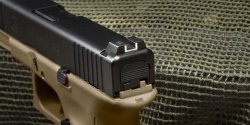 Back in 2020 the French Army chose its new service pistol: the "Pistolet Automatique de Nouvelle Génération" (new generation automatic pistol) – or PANG for short – was none other than the 9mm GLOCK 17 Gen5 with FDE (sand-colored) or "Coyote" frame and black slide. Actually, it was the first Gen5 pistol model featuring a coyote-colored frame. Now, this same specific configuration is available as special run for the European civilian market.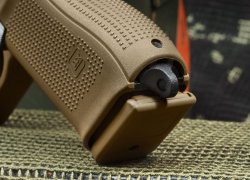 The PANG, i.e. G17 Gen5 FR Coyote, will replace the French MAC 50s and the Beretta 92Fs produced locally under license. The French contract includes 74,596 pistols and is worth 44 million euros. 
The "French-style" G17 features all the benefits of the standard Gen5 model, that is: front cocking serrations, finger groove-less frame, ambidextrous slide stop lever, reversible magazine release and a smoother trigger pull. 
Interview with GLOCK: what the manufacturer says about the new G17 Gen5 FR Coyote

G17 Gen5 FR Coyote additional features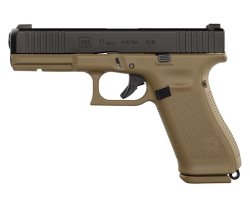 Besides the Coyote colored frame, additional distinctive features of the G17 Gen5 FR Coyote in respect of the standard Gen5 model include luminescent steel sights, a lanyard loop grip insert and an extended slide lock.
The GLOCK G17 Gen5 pistol with coyote frame comes in a Coyote colored pistol case (for storage and transport) with two 17-round magazines, a magazine speed loader, a cleaning set (rod with patch holder and brush), a set of four backstrap and the user's manual. 
Scope of supply might vary depending on distributing country – for more details you should ask your local dealer. The recommended retail price for the G17 Gen5 FR Coyote in Germany is 805 euros (prices may differ in other countries). If you want to have one, you should be quick. Delivery will start at the beginning of June 2021. But as mentioned above, it is a "special edition", which means limited availability.

For more information about the G17 Gen5 Coyote please visit the GLOCK website.