Here comes another competitor in the busy market of 1911-style 9mm competition pistols. MasterPiece Arms (MPA), a US company known for its chassis-type rifles and systems such as the BA Rifles and Chassis Systems, has just announced that it has absorbed the wide-body, double-stack 1911 pistol line from Freedom Gunworks into its product line-up. The new 9mm DS9 Hybrid Pistol is the first product to be introduced. 
The DS9 Hybrid Pistol is a described as a "world-class" competition-ready pistol and comes in a variety of finishes and configurations. The DS9 Hybrid Pistol is in fact available in either an Iron Sights or Optics Ready configuration, in three versions: Black & Stainless, Stainless & Blue, Black & Blue. The Iron Sights configuration includes an Accuracy X Sight Base with Kensight Bomar Style Adjustable Rear Sight and Front Sight Blade. The Optics Ready configuration includes an Accuracy X Red Dot Sight Base (customer's choice) and Front Sight Blade (co-witness only available in certain combinations). 
The price for all versions and configurations is the same, at $2999. With the gun you'll get a lifetime warranty, a custom MPA single pistol case and one MPA 140mm magazine. 
DS9 Hybrid Pistol, hand-built and US-made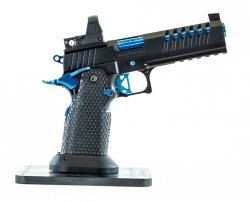 Each DS9 Hybrid Pistol is hand-built, including lapping the slide/frame interface. MPA in fact stresses that "all parts of the 9mm DS9 Hybrid Pistol are machined in the USA from barstock and billet and include no MIM, castings, or forgings. The components machined by MPA include the full-length steel light rail five-inch frame, slide, MPA 416R stainless bull barrel, stainless steel beavertail/grip safety, stainless steel ambidextrous safety, stainless steel slide stop, firing pin stop, ejector, magwell, and 7075 black anodized aluminum grip." Barrel is 5"/127 mm long. Trigger pull is factory set at 2 lb. Moreover, according to MPA, the FGW slide serrations with slide lightening cuts create less reciprocating mass.
Thanks to the Accuracy X Multi Sight patented Modular Sight System, the customer can change back and forth from slide mounted optics to iron sights in minutes. A Koenig hammer, sear and disconnector, Wolff springs, custom machined aluminum trigger shoe and a true one-piece toolless guide rod are part of the package.