Pursuing its usual, aggressive market policy, Ruger is now offering a new product for those who need a pistol for self-defense but are on a budget. Chambered in in 9mm Luger, the new EC9s is indeed a compact and lightweight handgun, with an overall length of 6 inches, 4.50" high, and weighing  17.2 oz. But at just 299.00 USD / 247 Euro (suggested price, excl. tax), its greatest virtue resides in the price tag. The EC9s is in fact a good alternative to the more expensive Ruger LC9s, with which it shares the same general design, dimensions, weight and caliber.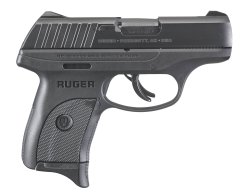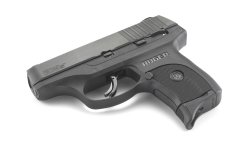 First of all, sights are here machined integrally with the slide, some machining operations have been dropped to save production costs, and the pistol ships with just one 7-round magazine. 

Otherwise, like its more expensive sibling, the EC9s is a striker-fired gun with a  high performance, glass-filled nylon frame, a through-hardened alloy steel slide, and a 3.12" alloy steel barrel. Both barrel and slide have a black oxide finish.
The one-piece grip frame is checkered for a firm purchase but for an improved grip, a finger grip extension floorplate (included) can be added to the magazine. Safety features include integrated trigger safety, manual safety, magazine disconnect and an inspection port that allows for visual confirmation of a loaded or empty chamber. As for the size, Ruger stresses that the 9mm EC9s is just slightly larger (less than 1" taller and 1" longer) than the Company's ultra-compact LCP model chambered for the weaker .380 Auto cartridge.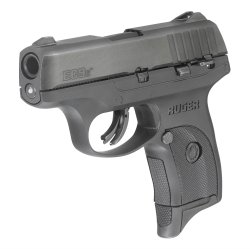 The new Ruger's pistol is entering the very competitive and crowded market of low-price 9mm compact/subcompact pistols. Almost any gun manufacturer today is offering one or more options in this segment. But if integral sights and having just one magazine don't trouble you, and you really need/want to save a few bucks, the budget-friendly Ruger EC9s could be worth a thought.
Technical data of the Ruger EC9s pistol
| | |
| --- | --- |
| Caliber: | 9mm Luger  |
| Magazine capacity: | 7+1 Rounds |
| Barrel length: | 3.12" |
| Sights: | Integral |
| Size: | 6" lenght x 4.50" height x 0.90" width |
| Weight: | 17.2 oz. |
| Material: | Slide, Through-Hardened Alloy Steel; Barrel, Alloy Steel |