The 5.7x28mm cartridge seems to be prompting renewed interest among US firearms manufacturers, After Ruger with its Ruger-57 pistol (see here), now it's the turn of Diamondback Firearms to introduce a new product with the DBX 5.7, a "one-of-a-kind" semi-auto pistol featuring an 8"/ 203 mm barrel. For those who don't know it, Diamondback Firearms is a company established in 1989, specializing in AR-15 based pistols and industry components. The DBX 5.7 was unveiled at Range Day for SHOT Show 2020 in Las Vegas.
Diamondback Firearms DBX 5.7, a compact gun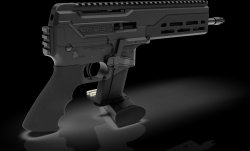 "Diamondback Firearms has worked hard to offer not only a new and different product, but something truly innovative for shooters to enjoy," says Kaley Cox, Marketing Director for Diamondback America. "We are very excited to bring our customers the DBX 5.7 and introduce them to something beyond the traditional pistol or carbine on the market."
And the  DBX 5.7 is really "something beyond the traditional pistol or carbine": a semi-auto gun with a locked breech, dual gas piston operating system, it has a standard AR-15 mil-spec trigger and a Magpul MOE-K grip. The frame is made from hard coat anodized 7075 aluminum and the M-Lok compatible handguard is machined from 6061 aluminum.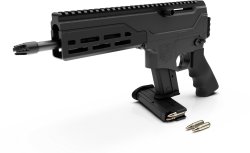 The DBX 5.7 comes equipped with a rear Picatinny mounted, side-folding brace. Overall length with the brace is 25.4"/645 mm, and 16.1"/409 mm length without the brace. The DBX 5.7 is quite thin too, at just 1.25"/32 mm  (excluding controls and brace), and weight is 3 lb / 1360 g (unloaded without the brace). No sights are included, but there's a long Picatinny mounting rail on top of the receiver and handguard.
Among the other features, a DBX muzzle device, a Magpul Handstop kit and a 20-round magazine. The latter is FN Five-seveN compatible, but according to the manufacturer future SKUs will also include models compatible with Ruger-57 magazines.
MSRP is 1299 USD, and the DBX 5.7 will begin shipping on May 7, 2020.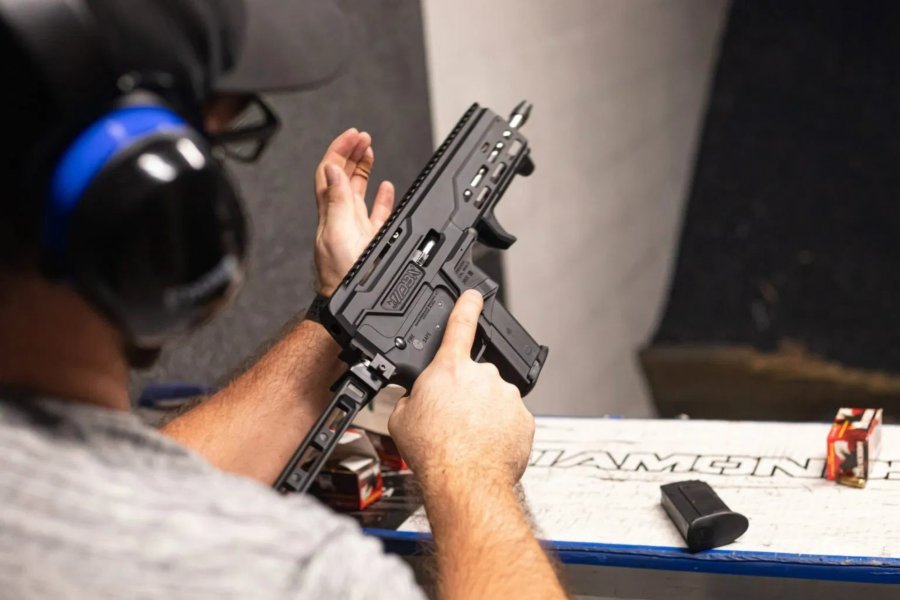 Diamondback Firearms DBX 5.7 specs
| | |
| --- | --- |
| Action type:  | semi-auto |
| Operating system:  | locked breech, dual gas piston |
| Caliber: | 5.7x28mm |
| Barrel length:  | 8"/ 203  |
| Sights:  | none |
| Magazine capacity:  | 20 rounds (FN Five-seveN compatible) |
| Frame/body material:  | 7075 aluminum, hard coat anodized |
| Forend/handguard material:  | 6061 aluminum, hard coat anodized, M-Lok compatible on left, right, & bottom |
| Grip:  | Magpul MOE-K |
| Overall length (no brace):  | 16.1"/ 409 mm |
| Overall length (brace folded):  | 16.9"/ 429 mm |
| Overall length (brace extended):  | 25.4"/ 654 |
| Overall width (excluding controls, no brace): | 1.25"/ 31.7 mm |
| Overall width (including charging handle, no brace):  | 1.75"/ 44.4 |
| Overall height (without sights): | 7.3"/ 185 mm |
| Weight (with empty magazine – no brace):  | 3.0 lb / 1360 g |
| Weight (with empty magazine & brace): | 3.7 lb / 1678 g |