We talked about the new Smith & Wesson M&P 380 Shield EZ pistol a few weeks ago on all4shooter.com. Among its features, an easy-to-rack slide, an easy-to-load magazine and easy-to-clean design, with a pretty conspicuous grip safety.
The manufacturer just issued a consumer advisory regarding the manual thumb safety version of this handgun: "In the case of the M&P 380 Shield EZ Manual Thumb Safety, we have found that in very rare circumstances, ammunition that produces a high level of felt recoil can cause the manual safety to move from the fire to the 'safety on' position during firing. Should this occur, you will not be able to fire the next round unless and until the manual safety is reset to the fire position." 
M&P 380 Shield EZ: no-cost upgrade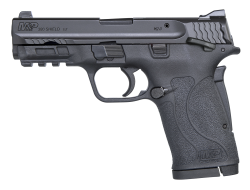 Smith & Wesson claims to be "committed to designing and producing firearms that meet the highest quality and performance standards. To ensure that every Smith & Wesson handgun meets our standards for reliability and performance, as of April 4, 2018, we have engineered the manual safety so that it will be less susceptible to the influence of ammunition weight, velocity and loads." 
A no-cost upgrade is offered for any M&P 380 Shield EZ Manual Thumb Safety pistol produced before April 4. To know if this consumer advisory applies to your pistol, you must utilize S&W's serial number verification tool on the consumer advisory page. 
If your pistol is subject to this advisory, you must call Smith & Wesson at 1-800-331-0852 or email them at MP380EZAdvisory@Smith-Wesson.com. A FedEx return label and shipping instructions to facilitate the return of your M&P 380 Shield EZ pistol will be mailed to you promptly. For more information users are invited to call 1-800-331-0852. 
Smith & Wesson also recommends not to use +P, +P+ or reloaded ammunition with M&P 380 Shield EZ pistols, always using factory manufactured ammunition produced to Saami specifications instead.