Article also available in other languages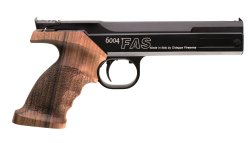 KIMAR S.r.l. -- Chiappa Firearms, Ltd.
One of the finest training and competition airguns that the Italian arms industry ever gave birth of was conceived in the early 1970s by Massimo Mencarelli, who established a small manufacturing laboratory called FAS - Fabbrica Armi Sportive ("Sporting Guns Factory") in the city of Milan, recruiting other shooting enthusiasts with a dream: providing the market with state-of-the-art ISSC shooting tools that would be dead-on accurate and dependable for the most demanding competitions. For about forty years, the FAS name has been proudly carried by competition airguns and pistols that won international and Olympic medals and set world records that mostly remain unbeaten and unmatched so far.
Sadly, Massimo Mencarelli passed away on December 7th, 2013, after fighting progressively deteriorating health conditions for years. His son − Mr. Raffaele Mencarell, owner and manager of the DOMINO Guns Import & Export S.r.l. company − was thus left to take over the family business.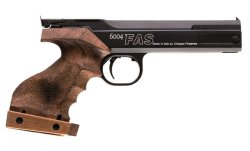 KIMAR S.r.l. -- Chiappa Firearms, Ltd.
Well aware of the high standards and demands of the global shooting community, Raffaele Mencarelli decided to take said legendary airgun − the FAS AP-604 model − one step further, basically abandoning the partial or total hand-manufacturing that his father's company had been famous for and evolving the design into a full-blown mass-produced shooting instrument that would retain the high levels of care and quality it's already known for while becoming available at a budget price for a higher number of shooters worldwide.
In order to do so, Mr. Mencarelli had to choose a reliable industry parner, and not to our surprise, his choice fell over the Chiappa Firearms company. Headquartered in the northern Italian town of Azzano Mella, and operating a north-American subsidiary in Dayton (Ohio, USA) for international sales, the Chiappa Firearms group has proved its innovation capabilities, evolving its technology level and boosting its product line, while remaining true to the values and standards of what is still today a family business. After about one year of talks and R&D, Chiappa Firearms and DOMINO S.r.l. announced that the distribution of the FAS-6004 is ready to roll. The DOMINO company will retain full distribution rights for the Italian market − where it will still be known as the FAS AP-6004 − while Chiappa will handle international distribution.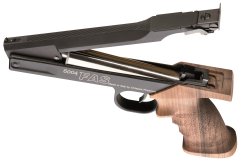 KIMAR S.r.l. -- Chiappa Firearms, Ltd.
Chiappa's FAS-6004 pistol is mostly manufactured out of carbon steel: it's used on the frame, on the tilting upper and on the 7.5 inches (19 centimetres), Match-choked, 12-grooves barrel, which is mated to a pneumatic air piston.
The FAS-6004 is a single-shot, pre-compressed air pneumatic airgun: the upper portion tilts up to charge the air piston and to allow a single 4.5mm/.177 pellet to be loaded into the breech. All metal parts (exception made for the air piston) are finished in anti-glare matte black, and the upper portion also fits a fixed front sight and a micrometric rear sight, fully adjustable for windage and elevation.
The opening of the air valve is located perfectly in line with the barrel, and that's what makes the FAS-6004 airgun unique, as its "barrel time" − the travel time of the pellet in the barrel − is virtually reduced to zero.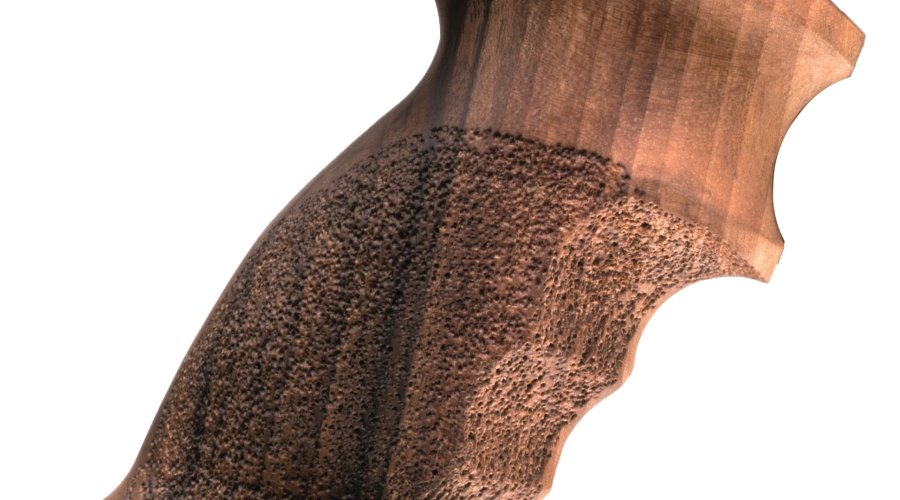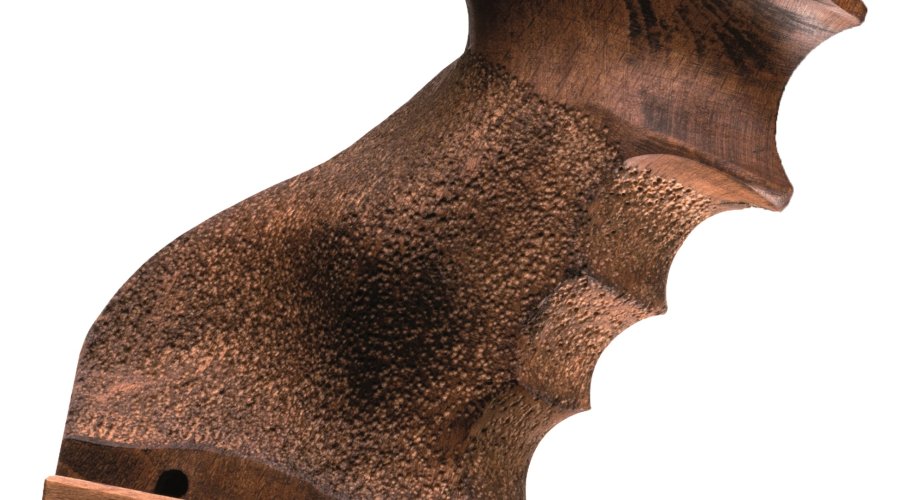 The FAS-6004 pistol will be available in two variants, distinguished from each other only by the shape of the walnut pistol grip. The standard FAS-6004 will come with a baseline, ambidextrous grip, while the "Match" version will come with an adjustable grip, available in three variants: small, medium and large.
The single-action trigger is the same originally conceived by Mr. Massimo Mencarelli decades ago, as its unparalleled accuracy and reliability didn't really call for any modification. The trigger on the FAS-6004 features four adjustment screws that will allow shooters to set all features − weight, lenght of pull, overtravel, stages − according to their own needs and preferences, in a 200-grams to 500-grams range.
The Chiappa Firearms' FAS-6004 airgun is 11-inches (30 centimetres) long overall, and weighs merely 2 pounds (900 grams). Its pre-compressed pneumatic air piston develops a muzzle velocity level that topps 400 feet-per-second (140 metres-per-second), which translates into a little bit less than 7 Joules of muzzle energy − much less than the 7.5 Joules threshold which distinguishes low-powered airguns from high-powered airguns in most Countries; this means that the FAS-6004 should be available for purchase and possession by all citizens over 18 years of age without any licensing or registration required in most of Europe and in most jurisdictions where ownership of air pistols is legal.
The retail price for the FAS-6004 has not been announced yet, although it has been slated that it will be "highly competitive" for the market segment. Anyway, the design has basically no real competition in its class, being the only airgun conceived for both beginners and expert competition shooters, as well as a perfect trainer for P10 and Standard Pistol disciplines.

Perfectly balanced and extremely accurate, the FAS-6004 represents Chiappa's and DOMINO's new and ambitious commitment: the restoration of the former glories of a true legend of the Italian and international shooting competitions, a true myth that left a still undisputed mark wherever and whenever it has been brought to the range. And, that's for sure, Chiappa Firearms definitely has all it takes to succeed in the task.