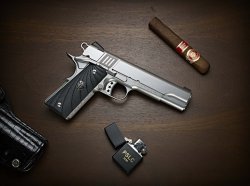 The South Paw S-100 Edition from Cabot Guns is a .45 ACP caliber stainless-steel pistol designed for left-handed shooters. The new gun is a complete mirror image of the company's popular 1911 pistol, featureing a left-handed ejection port, left-handed thumb safety, left-handed slide stop and left-handed mag release. Cabot is the world's only producer of left-handed 1911 style handguns.
Cabot Guns took designing the South Paw as a challenge: the goal was to produce a true left-handed firearm, re-engineering John Moses Browning's design to make the end product as if it were originally intended as a left-handed pistol. Cabot Guns completely inverted the original 1911 design.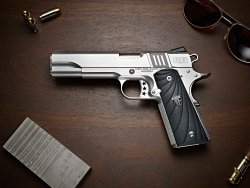 Every aspect of the weapon was mirrored and tailored for use specifically by left-handed shooters. The manufacturer guarantees an accuracy of 1.5 inch groupings at 25-yards out of the box. The S100 South Paw features a reverse dovetail front sight, available with white-dot, Tritium or gold dot accent.
The S100 is constructed from billet steel with aerospace construction techniques and is available in 416 stainless steel construction, with a matte finish, and an optional black nitride finish.  Other features include a 5-inch match grade hand-fit barrel, crown cut and flush fit as well as a polished feed ramp, a range of grip options, and optional low mount adjustable rear sights and engraved star at the front of the guide rod.
The base price for the South Paw, S100 Edition is $4,045.