After almost 50 years, the Beretta 92 series is still alive and kicking. Beretta has in fact dropped its latest iteration, the M9A4 model, featuring the proven design of the 92/M9 pistol series plus modern features such as a red-dot optics compatible slide.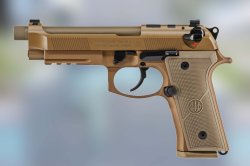 Designed in the mid-1970s for military and law enforcement use, the 9mm Beretta 92 pistol reached world fame in 1985 when it replaced the venerable Colt 1911 in the US armed forces, also starring in many blockbuster movies of the 1980s and 1990s such as the "Lethal Weapon" and "Die Hard" franchises, to name just a couple.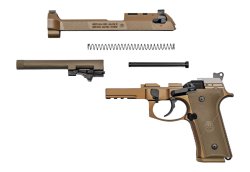 Even if the SIG Sauer P320 variants designated as M17 and M18 are now the official sidearms of all branches of the US military, many people still love and use the oldie but goldie M9. Unfortunately, Beretta was somewhat slow in implementing the most modern trends in the 92/M9 series. 
The  M9A4 model, an improvement of the M9A3 pistol introduced back in 2014, finally fills the gap adding "modern features such as a red-dot optic compatible slide and dovetailed tritium night sights for optimal sight options, an enhanced short reset Xtreme Trigger System, an 18-round magazine, and a Beretta Vertec frame with included aggressively textured Vertec-style thin grips that ensure a more natural fit for all shooters".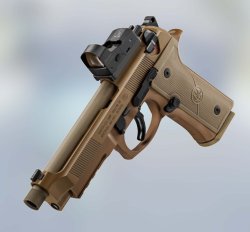 The thin Vertec-style vertical grip of the M9A4 – already seen in the M9A3 pistols – with its vertical back-strap configuration is good for instinctive control and makes trigger reach simple even for those with smaller hands. Together with the oversized magazine release button, the beveled magazine well enables quicker tactical magazine changes. The wear-resistant FDE finish is guaranteed to be "practically impervious to the elements". The gun uses 15 or 18-round anti-friction magazines in (10-round magazines are blued with FDE baseplates). Disassembly is tool-free as always.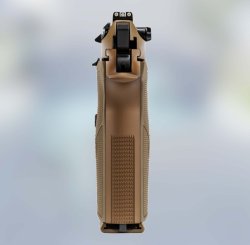 The M9A4 is also fitted with a universal decock-only (G) slide lever instead of a manual safety-decocker combination. 
A built-in 3-slot Picatinny rail located in front of the trigger guard allows users to attach accessories such as tactical lights or laser devices.
As mentioned, what actually distinguishes the new Beretta M9A4 are the integral slide cuts for the mounting of optional optic plate styles. "Consumers can receive a free optic plate from Beretta upon the registration of their purchased firearm or purchase an additional one aftermarket," they say on Beretta's website. 
Shipping with blanking covers, the end-user is able to purchase one of five different plates that allow for mounting of all of the most popular optic variants on the market today."
Proudly built in the USA, the new M9A4 has an MSRP of $1099.
Beretta M9A4 specs and price
| | |
| --- | --- |
| Action:  | Single/Double |
| Barrel Length:  | 5.1"/129.5 mm |
| Caliber: | 9mm Luger (9x19) |
| Magazine Capacity: | 10, 15 or 18 rounds |
| Overall Height:  | 5.4"/137 mm |
| Overall Length:  | 8.7"/ 221 mm |
| Overall Width:  | 1.5"/38 mm |
| Sight Radius:  | 6.3"/160 mm |
| Weight (Unloaded):  | 33.4 oz/944 g |
| Price:  | 1099 USD |