Article also available in other languages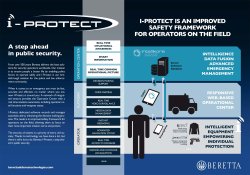 BDT - Beretta Defense Technologies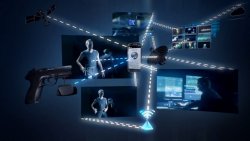 BDT - Beretta Defense Technologies
Before we start, let's get things straight.
We all know that law-abiding civilian gun owners are increasingly concerned by the introduction of new informations technology in the field of firearms and ammunition. More specifically, following some regulatory poposals in the European Union and the United States, gun owners worldwide fear that some technologies may be made mandatory, which would restrict their ability or right to use their legally-owned guns.
Even more specifically, there is an increasing concern over RFID technologies possibly being embedded in firearms to allow authorities to track them wherever they are − thus making large-scale, sudden confiscations possible − and over biometric devices that may hypotetically, potentially make it possible for Governments to deactivate all firearms owned by average citizens in a Country just with a push of a button. Nobody here likes these perspectives, no matter how far-fetched they may sound... and how far-fetched they actually are, since here at ALL4SHOOTERS.COM we know RFID and biometric technologies well enough to reassure you about the fact that none of these things are feasible − and even if they were, it would be quite easy to get around them.
However, in this specific case, you can put all these fears away. What we're going to see now is not meant to make firearms inert by remote, and can not be implemented on civilian firearms.
This video has been hidden because of an external service (YouTube) that could potentially collect personal data.Allow video services for the duration of the visitAllow video servicesStop allowing video services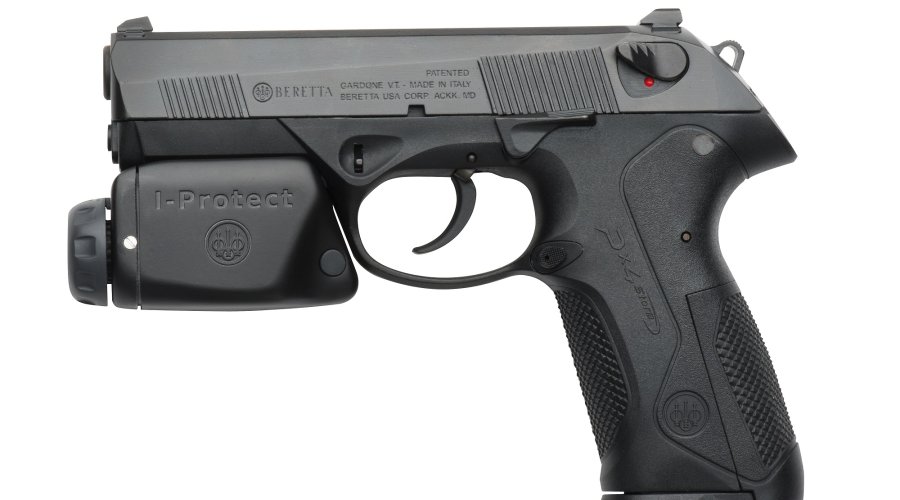 For several years now, global powers have been implementing network-centric systems and technologies in their C4ISTAR centers and chain-of-commands, attempting to achieve better communication between forces on the field as well as between military units and commanders, in order to  ease the work of decision-makers and achieve better coordination and swifter victories with minimum losses and minimum friendly fire accidents.
Implementation of network-centric systems and solutions in the military have returned positive results so far, and it didn't took long for some law enforcement agencies to lay their eyes on them. The idea would be to adapt some of these concepts and solutions to the jungles and battlefields of modern metropolitan areas, particularly in the American continent, where Police officers risk their lives on the line every day for the welfare of law-abiding citizens against an ever-increasing number of heavily armed and organized criminals.
The experience of Police units in South American towns teaches that chasing a simple group of gun runners down the streets of a shantytown can easily turn into a tactical nightmare; other catastrophic terror attacks − such as those against the Westgate Shopping Mall in Nairobi (Kenya) last September, or to several touristic targets in Mumbai (India) in November 2008 − are a further, dramatic warning of how hard would it be for Police to contain and stop a well-organized, well-armed commando roaming down the streets of a major city in western Europe or America.
In order to address these needs, Beretta Defense Technologies − the MIL/LE products division of the historical Italian gunmaking company − teamed up with Rome-based Intellitronika S.r.l., a high-tech company specializing in electronics and IT systems for law enforcement applications, in order to develop a program that finally saw the light of the day at the 2013 MILIPOL expo, held in Paris (France) last November, 19th to 22th.
Named I-Protect, Beretta Defense Technologies' new system aims to provide local and national law enforcement agencies with technologies and solutions that should be as close as possible to these used by the Armed Forces in their network-centric systems, so to allow better coordination of all officers in the streets and expedite the flux of informations between patrols as well as between Police personnel and the dispatch or operation centers, thus offering a considerable advantage in terms of reduction of reaction times, simplification of information processing and decision-making, and overall allowing for better, swifter response − particularly in case of major emergencies.
Beretta's I-Protect system is based upon three inter-connected, interoperable subsystems: the I-Protect Black Box, to be installed on each officer's service pistol; the B-Zero monitoring system to be worn by each officer on his/her own body or personal equipment; and the Operations Center, the core of it all, to be specifically conceived and organized.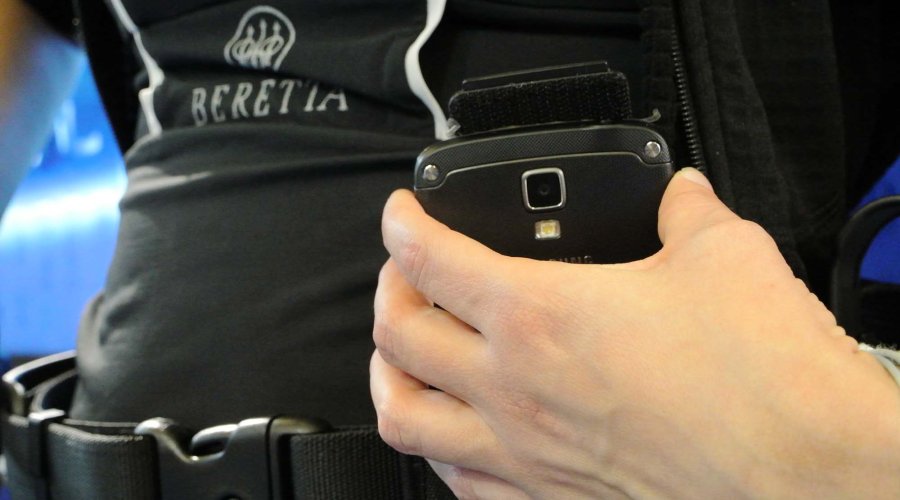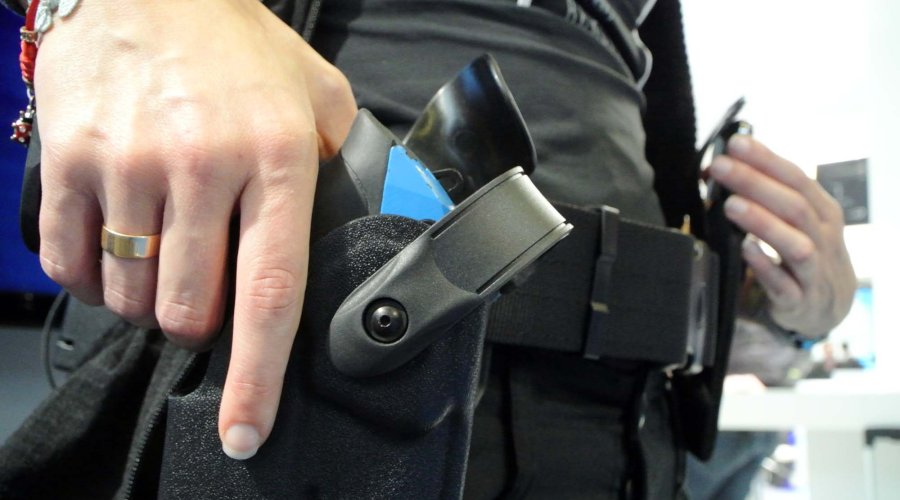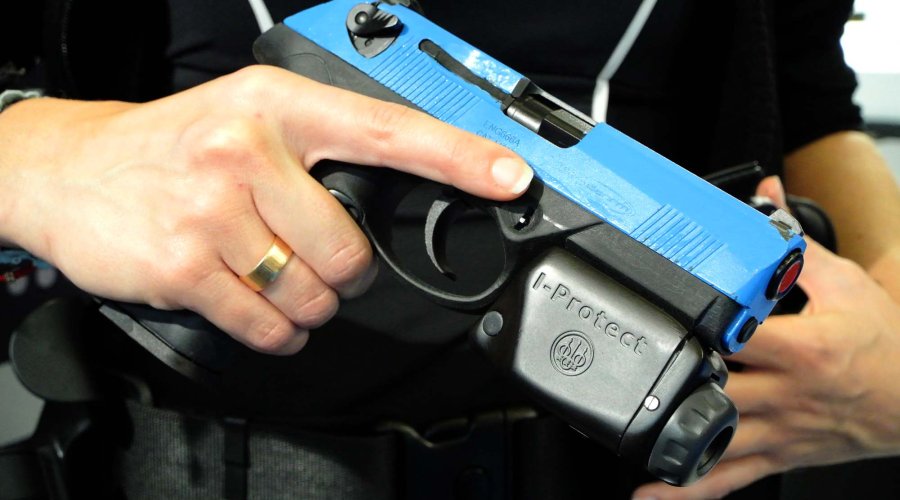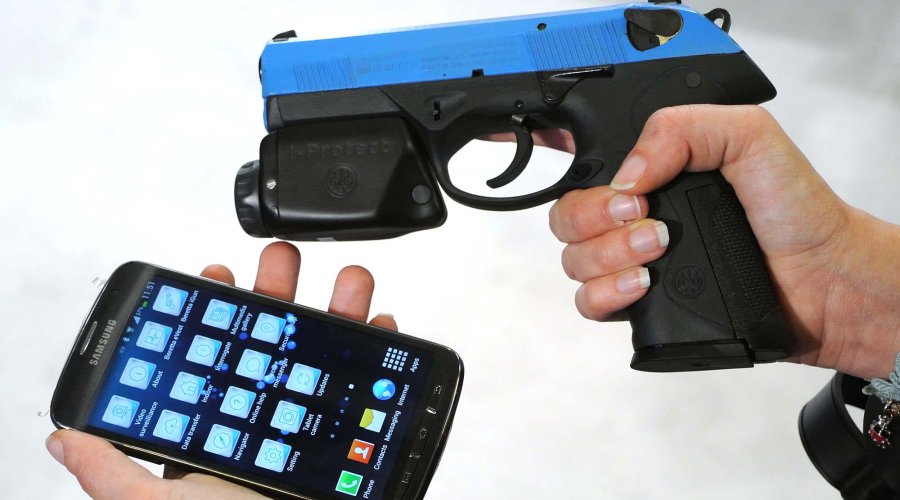 BDT - Beretta Defense Technologies
The I-Protect system can be integrated to each individual service sidearm by installing the I-Protect Black Box under the pistol frame through a simple Picatinny rail − just like you'd do with a tactical flashlight or laser sight.
In order for it to work, though, the pistol must first be made ready for it through the installation of a few pieces of circuitry and electronics within the frame. The latest miniaturization technologies are applied in the engineering and manufacturing process for these pieces of circuitry, so that they will not provide any considerable further bulk or weight to the pistol.
These pieces of circuitry consist in an accelerometer, that will register a series of working parameters when the gun is fired; a series of sensors that will detect the magazine in its well, count the number of remaining rounds and the state of the manual safety, striker, and hammer; and an IrDA processor, that will transmit all these datas to the I-Protect Black Box − which, in turn, will transmit them to the Operations Center.
This video has been hidden because of an external service (YouTube) that could potentially collect personal data.Allow video services for the duration of the visitAllow video servicesStop allowing video services
The I-Protect Black Box will carry out several operations at once: it will provide the Operations Center to constantly updated informations concerning the guns issued to every single officer; it will activate a record function every time that the gun is drawn or fired − providing evidence to document the action should the officer be challenged on grounds of negligent or excessive use of force; and will record a series of working parameters for the gun itself, not limited to the number of shots fired and the surrounding situation.
So to speak, the I-Protect Black Box will record anomalies or deviations from the standard operative patterns of said pistol. It will detect if the barrel overheats, or if there's too much friction within parts, and will alert the control room so that maintenance may be scheduled.
Circuitry isn't engineered to act directly upon the firing mechanism; firearms are mechanical tools, and as long as their working system won't be based upon electronics, they won't be able to stop them from firing. This means that the I-Protect has not been conceived to "deactivate" a firearm with a simple flick of a switch, nor it can be modified for said purpose.
However, it can − and will − provide the position of the pistol to the Operations Center; this means that, should an officer's gun be snatched away, the Operations Center will be able to locate it swiftly and stop the attacker before the gun could be used to commit a crime.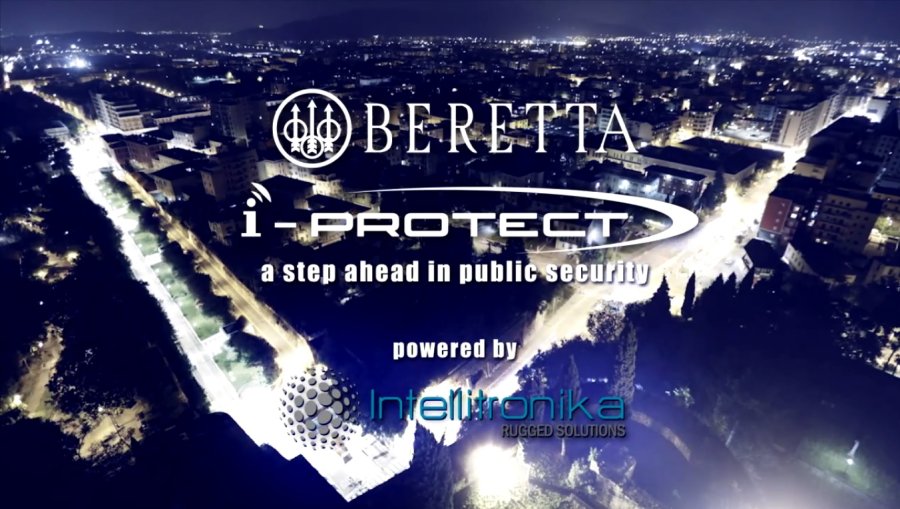 BDT - Beretta Defense Technologies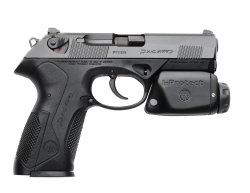 BDT - Beretta Defense Technologies
The B-Zero subsystem has instead been conceived to be worn by Police operators directly on their own bodies, possibly directly under the uniform, at direct contact with the officer's torso.
The B-Zero system will be available both as a stand-alone electronic device to be worn under the uniform − or the civilian clothes for plain-clothed personnel − or already integrated in a fire-resistant, comfortable, transpirant shirt.
The B-Zero device will remain constantly in contact with the I-Protect Black Box, which will in turn transmit these data to the Operations Center as well − and, in case of necessity, to other officers in the area, who will be able to receive and read them through a smartphone, a PDA or another similar hand-held device.

Beretta's B-Zero sub-system will integrate an extremely accurate navigation and positioning system that will be able to track down each officer's position in real time with an extremely little degree of approximation, down to locating the operator even inside a building. But there's much more than that in there.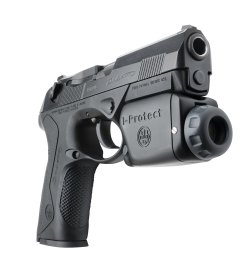 BDT - Beretta Defense Technologies
The B-Zero subsystem also integrates a heartbeat sensor, a breath rate monitor, and a body position sensor that will be able to monitor in the main what the individual officer is doing: particularly if he/she's up on his/her feet or down on the ground.
Implications are several: the Operations Center will be able to keep the status and the life condition of each Police officer on the street and locate each and every one of them with an extremely high degree of accuracy, allowing for high-accuracy coordination in high-risk operations, such as when serving an arrest warrant against a fugitive or performing a hostage rescue operation.
Moreover, the heartbeat sensor, the breath rate monitor and the body position sensor will allow the Operations Center to detect immediately if an officer has been wounded or shot down in the line of duty, particularly if said officer is serving in an isolated area with little time to call for backup.

An automatic alarm will be raised if vital signs go off-scale, so that backup and medical emergency personnel may be immediately dispatched to the detected positions. Definitely, the system has the potential to save a lot of lives out there.
Of course, all functions of the I-Protect system and all its alarms can be manually activated or deactivated by the officer himself/herself, eg. for privacy protection or when going off-duty.
BDT - Beretta Defense Technologies
Last, but not least, comes the Operations Center.
As all Police officers out there know, Police commands have a dispatch or Ops room where all command, control, communications and information operations are carried on, including the assignment of duties and the management of emergency calls and the dispatch of officers as a response to them.
These pre-existing Ops rooms or dispatch rooms can be reverted to integrate the I-Protect systems and technologies; these departments and law enforcement agencies that will adopt the I-Protect system will receive assistance from Beretta and Intellitronika themselves.

Alternatively, brand new Operations Centers can be established to handle the data stream coming from the fielded I-Protect systems.
Operation Centers for the management of the I-Protect system don't necessarily need to be located in a fixed point, such as in a building: mobile Operation Centers may also be established on special vehicles.
This capacity will enable special operation teams within Police forces and other Law Enforcement organizations to benefit from the capabilities of Beretta's I-Protect: we are of course talking of these special tactical units nicknamed "SWAT" in the United States, and largely known as such elsewhere in the world as well.
As it's commonly know, these units are routinely given special assignments such as the apprehension of high-profile underworld figures or crackdowns on large-scale criminal activities (eg. drug busts), and are tasked to respond to crisis situations, to performe hostage rescues, or to stop terrorist attacks. Dynamicity and high spped movement are at their core, and the I-Protect system would provide them with further coordination and thus a superior accuracy and effectiveness in their operations.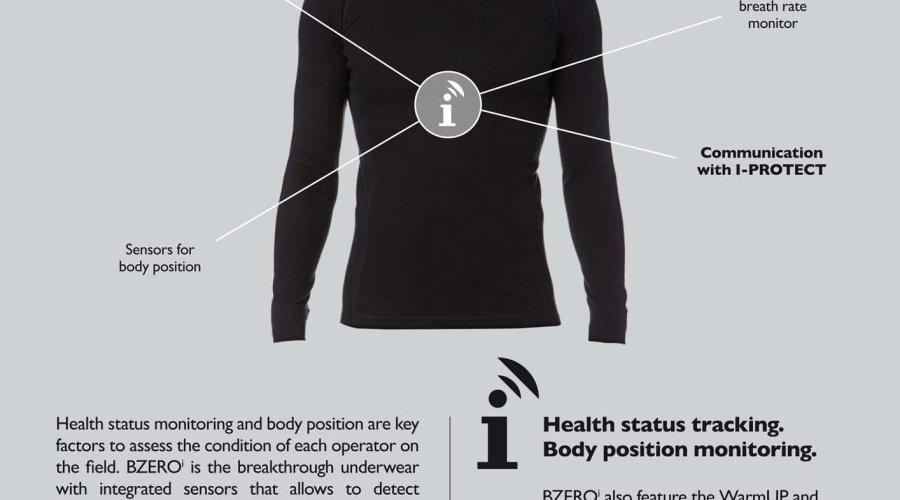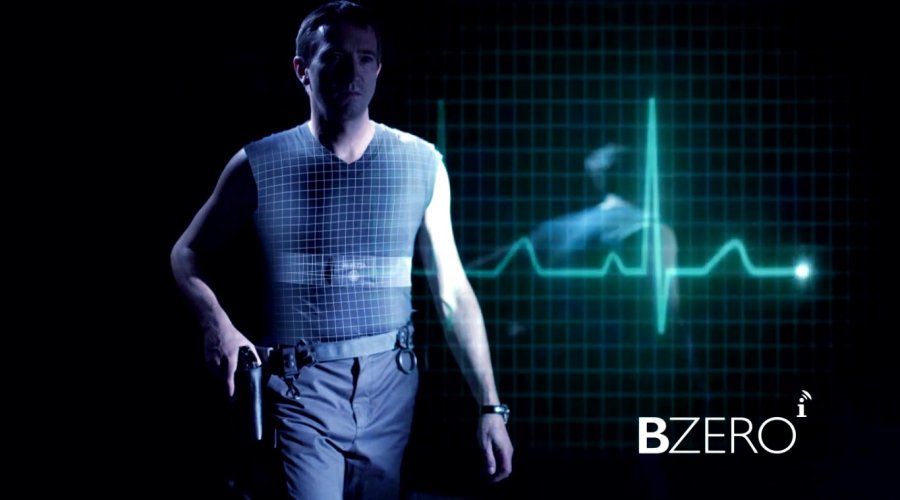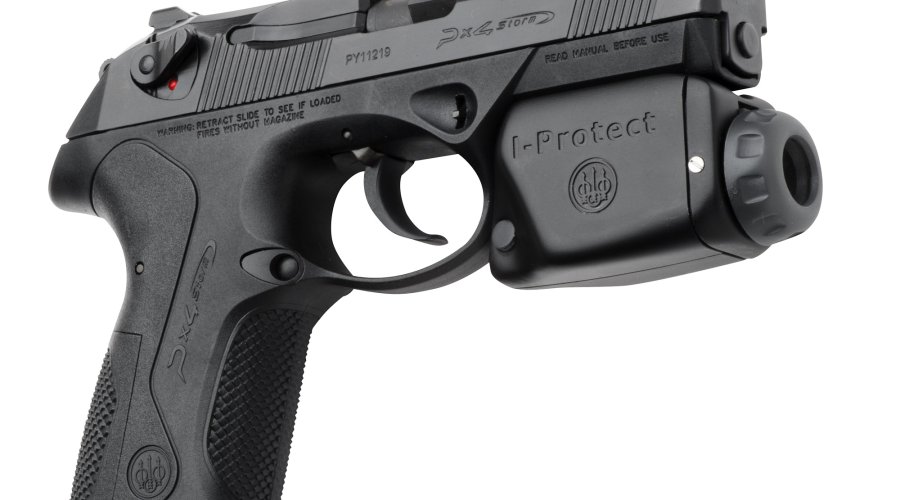 As far as we have been able to see up to now, we may say that the I-Protect system and the Beretta Defense technologies - Intellitronika duo may be about to launch a new era in law enforcement.

These Police organizations that will adopt them − most probably huge metropolitan Police departments in north America, as several functionalities in the I-Protect system seem to have been tailored to suit their needs! − will experience a raise in coordination of their officers' actions and will enhance their effectiveness against criminal activities.
Last, but not least, despite being the I-Protect system portrayed here only as a complement for the Px4 Storm pistol, Beretta ensures that it will remain compatible with most, if not all, of the handguns manufactured by the company both in Italy and in the north-American plant located in Accokeek (Maryland). It will also be compatible with some future models that only exist as advanced prototypes today but that may soon be launched as a complement or replacement for other guns that Beretta is currently offering.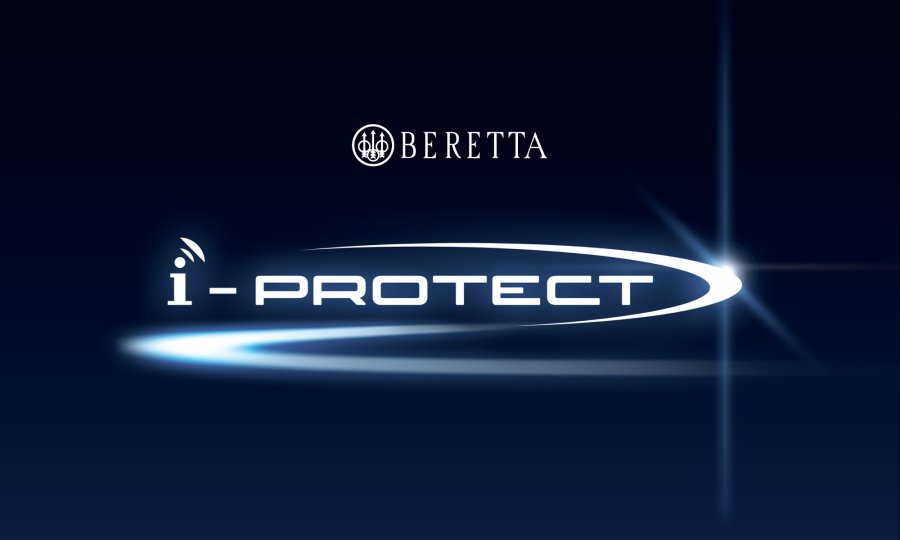 BDT - Beretta Defense Technologies