There's a new "roller" on the block! Not later than a month ago, with the 9mm SP pistol Heckler & Koch introduced the long-awaited semi-automatic sporting version of what's probably the world's most popular submachine gun, the MP5, whose roller-delayed blowback operating system is a sort of trademark. But now comes another 9mm roller-delayed action "subgun", the MDP-9 by Angstadt Arms .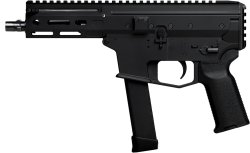 Angstadt Arms is a US company specializing in "innovative weapon platforms for military, law enforcement and responsible citizens" , as they say on their website. Their new MDP-9 features a patent pending roller-delayed action that "significantly reduces the weight and recoil of the gun making it one of the softest shooting pistol caliber carbines on the market," according to the manufacturer. Being AR-15 platform compatible, not only controls are the same as on the AR-15/M4 series but the monolithic upper assembly can also be coupled to any AR-15/AR-9 lower receiver in a blink. The MDP-9 will also be offered in fact as a stand-alone upper assembly. Moreover, the MDP-9 runs on GLOCK 9mm double-stack magazines – a very popular choice indeed.
Below is an somewhat emotional video that explains the MDP-9 details.
Video: Angstadt Arms MDP-9 Roller-Delayed AR-9
This video has been hidden because of an external service (YouTube) that could potentially collect personal data.Allow video services for the duration of the visitAllow video servicesStop allowing video services
By the way, the video shows a semi-auto gun for the civilian market. But it's conceivable that Angstadt Arms will also offer a selective/full-auto version for the LEO and military market – just like the already mentioned Heckler & Kock's SP5/MP5 series. Angstadt Arms already produces another personal defense weapon, the blowback-action UDP model, in semi-auto or fully automatic configurations.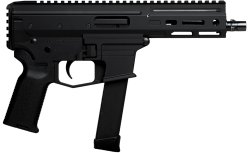 Back to the MDP-9, other features include a last round bolt hold open and an extended mag release for faster magazine changes.  The 5.85″/ 148 mm 3-lug barrel has a fluted chamber. The forward charging handle is non-reciprocating (left or right side). The upper assembly comes with continuous top Picatinny rail, M-lok interface and QD points. On the back, there's another 1913 rail adapter for the mounting of braces – SB Tactical side-folding & telescoping options. Colors available are black, FDE and tactical grey.
Angstadt Arms stresses the MDP-9 reduced size and weight - 14″/ 355 mm overall length for 3.6 lb / 1633 g – that make it very concealable and easy to carry. The manufacturer describes its product as "an ultra compact personal defense weapon perfected for the modern age" . In the US the MSRP is 2599 USD and we don't know if the MDP-9 will find its way to Europe. Nonetheless, it's would be quite interesting to test fire it – along a H&K SP5, maybe.

Angstadt Arms MDP-9 specs
| | |
| --- | --- |
| Caliber: | 9mm |
| Action:  | semi-automatic, roller-delayed blowback |
| Magazines: | GLOCK 9mm double-stack |
| Overall length:  | 14″/ 355 mm |
| Weight (empty):  | 3.6 lbs |
| Barrel length:  | 5.85″/ 148 mm 3-lug barrel with fluted chamber |