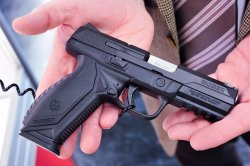 AKAH is an important German importer and distributor of firearms, mostly made in the United States – and Ruger is one of the brands AKAH trades. At the 2016 edition of the IWA OutdoorClassics expo in Nuremberg, AKAH first showcased the Ruger American Pistol in Europe, thus paving the way for its distribution all throughout the "Old Continent".
The Ruger American Pistol is a high quality semi-automatic, striker-fired pistol conceived for service and defensive purposes, available in two versions: the 9x19mm caliber model feeds through 18-shots double-stack metal magazines and sports a 4.2" barrel; the .45 ACP caliber version comes with an 11-rounds magazine, a slightly larger grip, and a 4.5" barrel.
Ruger's American Pistol is built around a matte black machined stainless steel slide and a modular black polymer frame with an adaptable grip that will fit the hand size of mostly any shooter. Its light double-action trigger sports an automatic safety system, and basically all controls are ambidextrous. Most notable of all, though, is the combination between a low bore axis and a redesigned cam, which plays a considerable role in reducing recoil and muzzle climb.