There have been spotting scopes with a reticle on the market for a long time now. However, their reticle is either engraved  or laser etched in the glass and therefore visible at all times. This is where Swarovski Optik STR 80 is already different from the competition, for its luminous reticle is reflected in and can be added or removed according to the user's needs with an easy-to-locate rotary switch. As in precision laser range finders, the reticle in the spotting scope is mainly for calculating distance, but it can also do a whole lot more. One such use is determining exactly how far away the hits are from the target point in the target medium. For example, anyone who shoots a firearm will find the STR 80 to be a valuable helper.
However, the full capacity of the spotting scope mainly plays out when the shooter and the spotter act as a two-man team and work in tandem using a telescopic sight and a spotting scope with an identical reticle system. This simplifies and accelerates communication immensely, for a clear statement by the observer, "Two MOA up, one MOA to the left!" leaves no room for interpretation, and thus the following shot is bound to hit the target.
Swarovski STR-80: technical components
The Swarovski STR 80 is available with either a projected MOA (minute of angle) or MRAD (milliradian) reticle, which makes it possible in practice to combine the spotting scope with telescopic sights that have a corresponding reticle and/or reticle adjustment. 
The test specimen with an MOA reticle that we used has sufficiently fine scaling of one line per minute of angle. With respect to line diameter, the MOA and MRAD reticles are identical: Both have a line thickness of 0.03 MR, corresponding to a covering effect of 3 mm at 100 meters. The reticle, which can be switched on and off, allowing for completely unimpeded observation when deactivated, can be used over the entire zoom range, and even its brightness can be adjusted to the ambient conditions with 10 day and 5 night levels.
The optical performance of the STR 80 HD spotting scope is excellent according to our experience using it. Nevertheless, its light transmission of 75% is somewhat less than the other Swarovski models that do not have a reticle that can be switched on and off. Less transmission is not truly disturbing when working by daylight.
When evaluating the hits on the target, the resolution and contrast are critical. Normally, hits are especially hard to evaluate when there is a black background and a black target front sheet. We copied this situation for our tests and, as you can easily recognize in the pictures, the optical performance of the STR 80 is convincing. The shots can already be readily seen at 20× magnification, and there is absolutely no doubt at 40× magnification, which was even quite sufficient for clearly identifying the fine 0.2 mm thick lines on the target 100 meters away.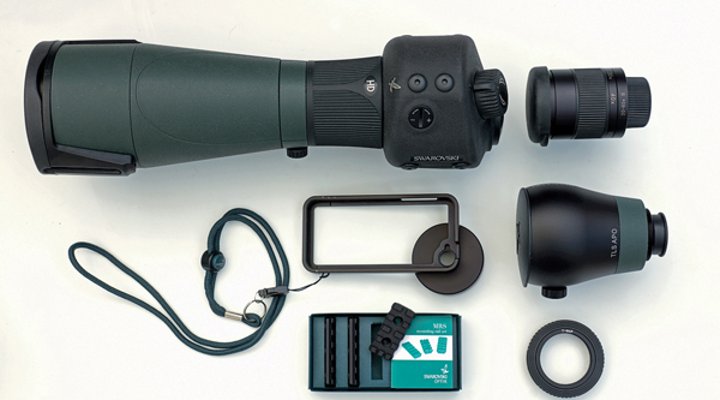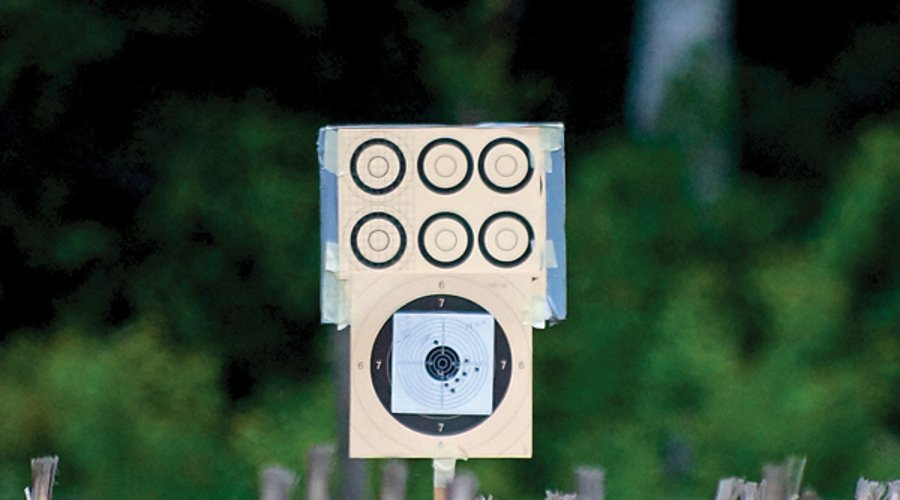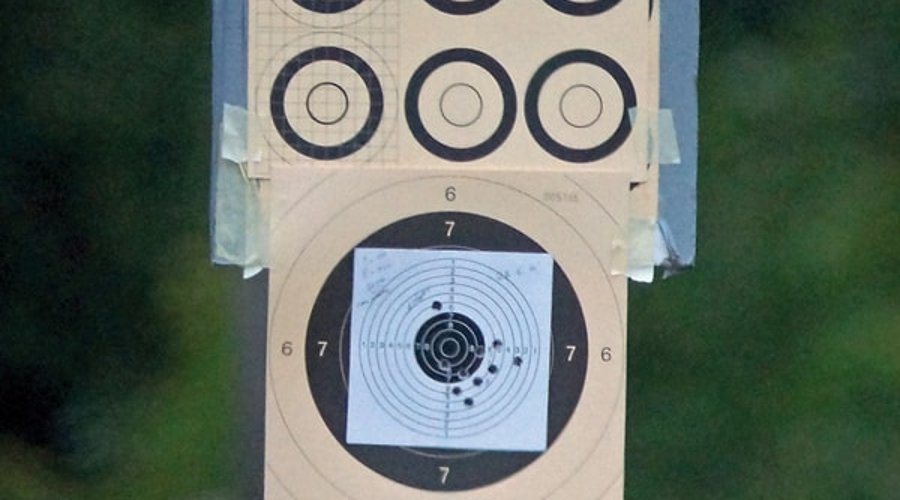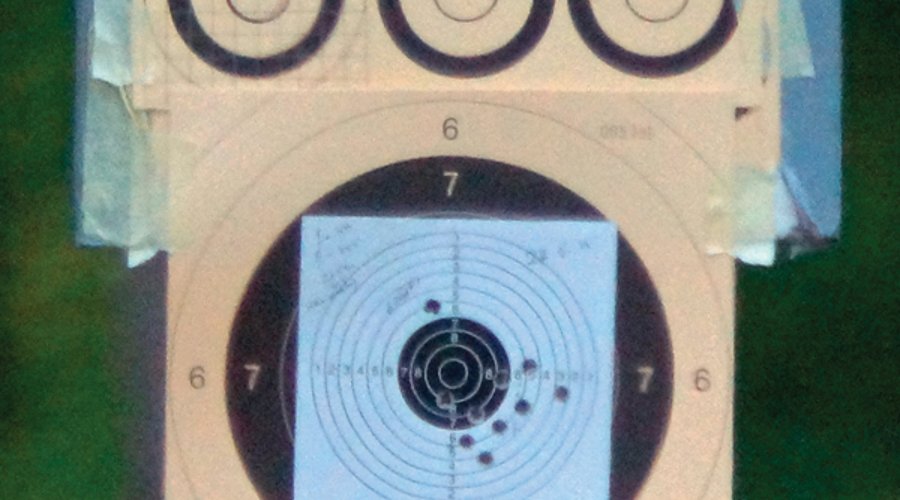 Swarovski STR 80 spotting scope with camera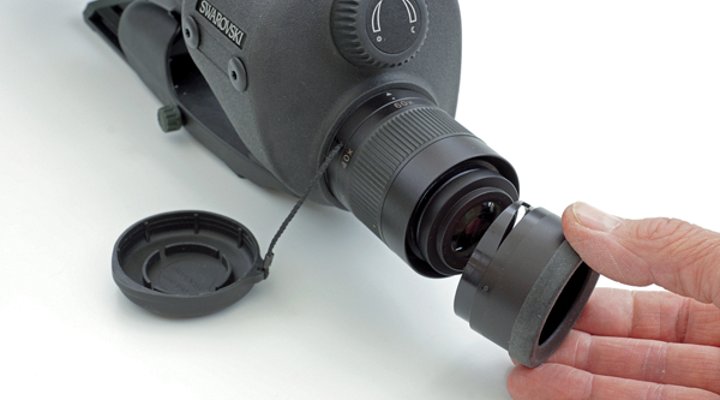 Documenting and archiving observed objects or hit results on a target is child's play with the Swarovski Optik STR 80. It works perfectly when combined with digiscoping adapters TLS APO (for system and reflex cameras) and PA-i5 (for an iPhone 5/5S).
The TLS APO adapter for fully-fledged cameras costs around 500.00 euros and converts the STR 80 spotting scope into a kind of super telephoto lens. However, the STR 80 configuration is not competing with, but rather supplementing the telephoto lens. With its 20× magnification, the Swarovski offers 50% greater magnification than a 400-mm telephoto lens. We are talking here about a focal length of 600 mm – which is even over 1,800 mm at 60× magnification! Whoever wants to really get up close can achieve wonders by combining the spotting scope, the TLS, and the camera. All that is needed is a little light and a sturdy tripod so that the shutter speeds can be kept at a moderate rate.
Test conclusion: Swarovski STR 80 spotting scope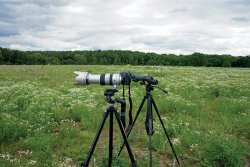 The new Swarovski Optik STR 80 is a true all-around talent, combining different tasks in a sophisticated fashion. Anyone who simply wants to observe can do this unimpeded, and if you need a reticle, you can switch on a detailed MOA or MRAD reticle that can handle any light situation. Moreover, you can also purchase the camera/smartphone adapter from the regular Swarovski range for documentation purposes. With the TLS APO adapter, it is possible to shoot extreme telephoto images. However, this versatility at top-level quality has its price, for the Swarovski STR 80 costs a hefty 3,200.00 euros without an eyepiece.
Dealer data and further information:
Swarovski Optik, Daniel-Swarovski-Strasse 70, A-6067 Absam, Austria, Phone: + 43- (0) 5223-511-0, www.swarovskioptik.com