A few months ago, the mil-spec ROMEO-M17 red dot sparked great interest, even if the optic had a proprietary SIG-LOC mounting interface designed for the M17/M18 service pistol only.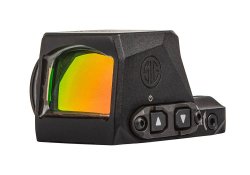 Now, SIG Sauer Electro-Optics introduces the all-new ROMEO-X series, which is inspired by ROMEO-M17 to deliver "military grade performance, reliability, and durability for civilian everyday carry".Two models are offered at the moment, the ROMEO-X Compact with a Shield RMSc mounting footprint to fit micro-compact pistols (including the SIG P365), and the ROMEO-X Pro with DeltaPoint Pro mounting footprint – for full-size pistols such as the P320. 
The ROMEO-X Compact has an overall length of about 41 mm and a width of 31 mm, while the larger ROMEO-X Pro is about 46 mm long and 32.7 mm wide. 
Sig Sauer ROMEO-X video introduction
This video has been hidden because of an external service (YouTube) that could potentially collect personal data.Allow video services for the duration of the visitAllow video servicesStop allowing video services
Sig Sauer ROMEO-X, "designed for the U.S. Military. Optimized for everyday carry"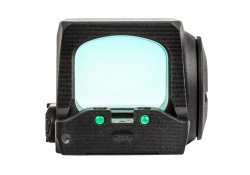 "The ROMEO-X family of red dot sights is completely optimized for everyday carry and built using the same technology and testing standards of our mil-spec optics that are designed to withstand the rigors of the battlefield," said Andy York, President, SIG Sauer Electro-Optics.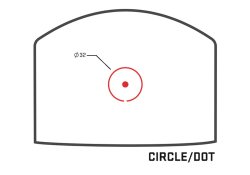 Both ROMEO-X red dots feature a 24-mm window diameter with distortion-free aspheric glass and patent-pending Beryllium Copper flexure-arm adjustment system, individually selectable 2 MOA Dot / 32 MOA circle reticle, and CNC machined 7075 aluminum housing with anti-reflection grooves on shooter facing surfaces. The low deck height allows standard-height iron sight co-witness.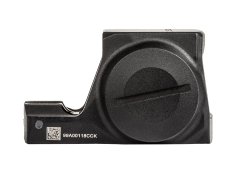 You can choose from 15 brightness settings (including 3 night vision settings), and a side-mounted CR1632 battery compartment with a threaded battery cap so that you don't need to remove the optic from the pistol for battery changes. The battery provides a minimum continuous runtime of 20,000 hours at medium brightness setting. MOTAC (Motion Activated Illumination), MAGNETAC (Magnetic Activation), and D.A.R.C (Dark Adaptive Reticles & Coatings) technologies are part of the package.
Prices? The Compact version comes at $409.99, and the Pro is priced at $459.99. Like all SIG Sauer Electro-Optics, the ROMEO-X Series includes the Infinite Guarantee, an unlimited lifetime guarantee that requires no warranty or receipt should your optic need to be replaced at any time. 
SIG Sauer ROMEO-X Compact specs and price
| | |
| --- | --- |
| Lens Diameter:  | 24mm |
| Reticle: | 2MOA Dot / 32 MOA Circle |
| Lens Type:  | Asphere |
| Illumination Settings:  | 15 (12 Day / 3 NV) |
| Battery:  | CR1632 |
| Run Rime:  | 20,000 hours |
| Overall Length:  | 41.15 mm  |
| Width: | 32.7 mm  |
| Height:  | 23.88 mm  |
| Mounting Footprint:  | Shield RMSc |
| Weight (w/o Battery):  | 28.35 g  |
| Waterproofing: | IPX-7 |
| Price (MSRP in the U.S.):  | $409.99  |
SIG Sauer ROMEO-X Pro specs and price
| | |
| --- | --- |
| Lens Diameter:  | 24mm |
| Reticle:  | 2MOA Dot / 32 MOA Circle |
| Lens Type:  | Asphere |
| Illumination Settings:  | 15 (12 Day / 3 NV) |
| Battery: | CR1632 |
| Run Rime:  | 20,000 hours |
| Overall Length:  | 46.48 mm  |
| Width:  | 31.24 mm  |
| Height: | 23.88 mm  |
| Mounting Footprint:  | DeltaPoint Pro |
| Weight (w/o Battery): | 32.60 g |
| Waterproofing: | IPX-7 |
| Price (MSRP in the U.S.):  | $459.99  |