The NPZ company manufactures only military optics for the Russian military: the quality level of its products is quite high, as well as the robustness that meets strict military standards. Based in Novosibirsk, the NPZ was founded in 1905 under the name JSC and is the oldest optical-mechanical products factory in Russia.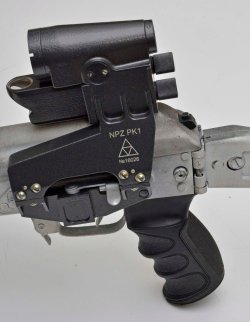 Among the different NPZ products, the PK1 tritium collimator with 1x magnification stands out. It's dedicated to AK-derived guns and is supplied to Russian special law enforcement and army units.
The reticle illumination is provided by the radioluminescent properties of tritium that does not require any kind of external power supply. The operational life of tritium before first decay is about 37/45 years. The NPZ PK1 tritium collimator sight is designed for use together with an IR visor, thermal camera or natural visus even in full light on snow. It mounted on the gun with an AK/Saiga optic mount with standard Russian side attachment.
Robustness without compromise
The construction is extremely robust and guarantees a temperature range of use from -50 ° C to + 50 ° C and a total insensitivity to humidity up to 100% at a temperature of 25 ° C. Field of view is 13 degrees with a grid shift of +/- 0-10 milliradians. The diameter of the front lens is 32 mm. The reticle is open, with three bars and a central triangle. The optic magnification is 1x. Dimensions are 133x152x68 mm with a weight of 600 grams.
In addition to sporting use, mounted on semi-automatic guns like the Saiga, the NPZ PK1 optics can also be mounted on airsoft replicas or simply be a collector's item. Retail price is around 680 euros.
NPZ PK1 tritium collimator sight: technical data 
| | |
| --- | --- |
| Producer: | NPZ Novosibirsk (Russia) |
| Model:   | PK1     |
| Type: | tritium collimator sight     |
| System of operation: | radioluminescence |
| Objective lens:  | 32 mm     |
| Magnification:     | 1x     |
| Mount: | Russian standard type AK     |
| Dimensions: | 133x152x68 mm |
| Weight: | 600 g |