Nikon is the first manufacturer of optical equipment for hunters and shooters introducing a Vibration Reduction technology in a laser rangefinder: announced late in 2016, the Nikon MONARCH 7i VR compact rangefinder was showcased now at the 2017 edition of the IWA trade show.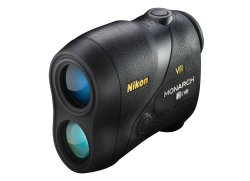 Featuring a measuring range of 8-1000 yards (7.3-915m), the MONARCH 7i VR includes a vibration damping technology that reduces the shaking in the viewfinder caused by the user's hand movements and aligns the measuring laser emission at the same time, using the same optical path.
The result is a dramatically increased speed and accuracy of the measurement, especially when targeting small objects.
The VR feature is a very welcome innovation that was long due: laser rangefinders have become increasingly small and many will find that trying to steady such a small optical device during targeting can be tricky.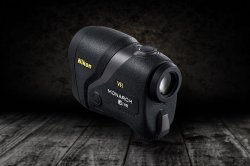 Nikon claims that vibrations of the image in the viewfinder caused by hand movement (sinusoidal waves) are reduced to approx. 1/5 or less, translating to 80% less shake. The integrated image stabilizing function is automatically and immediately active upon powering the rangefinding function, and thanks to the Hyper Read feature, the information is immediately available on the display in the viewfinder.
Target Priority Switch System lets you measure the nearest or furthest overlapping subject, and the high-quality 6x monocular is encased in an ergonomically designed, waterproof (up to 1m/3.3 ft for 10 minutes) and fog-free body.

Additional features include Horizontal Distance and Actual Distance display modes with ID (incline/decline) Technology, Target Priority Switch System for measuring overlapping subjects, displays the measurement result in 0.5 second and with 0.1m/yd. resolution.
The Nikon MONARCH 7i VR is surprisingly affordable at a suggested retail price of 479 Euro.
We had the product in our hands at IWA and could check the stabilizing effect on what you see inside a big hall of the exhibition. The effect is simply stunning. A clear recommendation for this product from our side.