The ever-increasing popularity within sports shooters and hunters alike has earned the AR-15 rifle platform the nickname of "Modern Sporting Rifle"; that's why Nikon Sport Optics, leader in the spotting and hunting scopes market, has been offering for some time now a dedicated line of scopes to appease the needs of hunters and competitive shooters alike that rely upon Eugene Stoner's "Black Rifle". Yet this line of scopes, dubbed the M-223, lacked true long-range capabilities to suit the needs of many hunters and competitors in long-range shooting events... that is, until Nikon launched the 4-16x42mm version of the M-223 lineup, featuring a high magnification zoom range and locking side focus parallax adjustment lays down a serious power range for the most extreme long range shooting. Designed for ultimate shooting speed and accuracy, this new riflescope will help maximize the performance of an AR platform rifle and the .223-Remington round, from zero out to 600 yards. Machined out of one single-piece aircraft-grade aluminium main body tube, nitrogen-filled and O-Ring sealed, the M-223 4-16x42 riflescope features is waterproof, fogproof and shockproof while maintaining minimum weight and maximum strength and durability.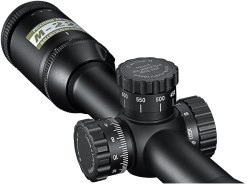 The M-223 4-16x42 scope with BDC-600 reticle features precise, tactical-style turrets with Zero-Reset feature to get zeroed-in quicker and maintain settings under all and every working condition, even with repeated recoil, as it can happen in fast-fire competitions. The BDC-600 reticle was developed specifically for the trajectory of the .223-Remington/5,56mm-NATO round.  It offers shooters unique open circle aiming points and hash marks from 100 to 600 yards. MSRP for the M-223 with BDC-600 reticle amounts to 400,95$ on the U.S. retail market.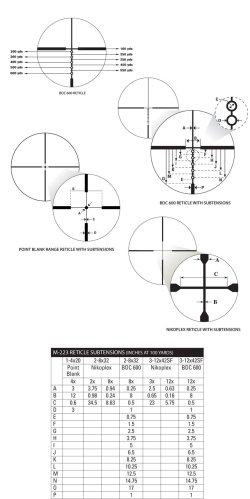 The M-223 4-16v42 Nikoplex features tactical-style Rapid Action Turrets. This incredible new system, based on a .223-Remington/5.56mm-NATO 55-grain polymer tipped bullet, at 3240 FPS allows shooters to dial-in elevation anywhere from 100 to 600 yards away in less than one revolution. Now it's possible to aim directly at the targets, eliminating the need to holdover by changing distances with a quick turn of the turret. MSRP for the M-223 with Nikoplex reticle reaches up to 479,95$ in the U.S. 
Like all Nikon AR riflescopes, the M-223 4-16x42 is optimized for use with Nikon
"Spot On" Ballistic Match Technology. The "Spot On" system allows the shooters to see how his/her exact ammunition and load will perform at various shot distances before taking the shot.
Other features of the Nikon M-223 4-16x42 scopes also include the Ultra ClearCoat® optical system, engineered to provide the shooter with a bright, sharp, incredibly flat sight picture and light transmission up to 95%; the "Eye Box" optical technology, an impressive 4-time zoom range and up to four inches of non-critical eye relief with a massive ocular lens delivering a huge, exceptionally bright, high-resolution sight picture; smooth zoom controls with magnification reference numbers viewable from the shooter's position; enhanced mount ring spacing, providing greater mounting versatility; and a locking side focus parallax adjustment, an easy-to-reach dial that allows quick focus from a shooting position. Also included with every Nikon M-223 4-16x42mm riflescope is a plastic-made, removable ARD (Anti-Reflection Device), that will eliminate objective lens glare when installed.
---
For further information
Nikon Sport Optics
1300 Walt Whitman Road
Melville, NY

11747-3064 - U.S.A.
Tel.: +1-631-547-4200
Fax: +1-631-547-0306