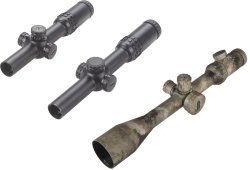 Owned by the Vista Outdoor company, the Millett optics brand offers a broad line of affordable scopes and optical sights for sport shooting, hunting, and tactical applications.

The Italian-based Bignami S.p.A. company − one of the most important European distributors for the Millett brand in Europe − showcased three of the newest Millett riflescopes to hit the European market at the 2016 edition of the HIT Show at the Vicenza city fairgrounds, in northern Italy.
The 1-4x24mm DMS-1, offering quick-adjustment dials and an illuminated donut-shaped reticle, has been conceived for modern sporting rifles; it retails for €431 in Italy. The 1-6x24mm DMS-2 is conceived for longer-range shooting, although still for modern-design rifles, and sports an illuminated Ballistic Drop Compensation reticle; its retail price in Italy tops €580. Last, but not least, the high-power 4-16x50mm Tactical riflescope is available in a black or camo finish version, and features an illuminated MilDot design reticle; its retail price is set for €603 in Italy.