Headquartered in the town of Settimo di Pescantina − Verona Province, in northern Italy − and managing foreign operations through the Konus USA branch out of Miami (FL), the Konus Group is well known worldwide for its optics line offering very good level performances at a budget price. True to its fame as a very dynamic company, the Konus Group is ready to launch four multi-purpose optics for fall 2013, aimed to meet the needs of hunters and sports shooters alike.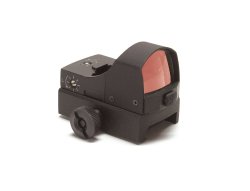 Konus Italia Group S.p.A.
First and foremost of them all is the Konus Fission 2.0 Micro Dot. developed as a follow-up to Konus' own highly popular SightPro Fission, the Fission 2.0 is a red dot sight with micro body style that can withstand the recoil of much larger firearms at the same price as its predecessor – an affordable $179.99. The new unit now features a convenient push button that is located on the front side of the dot and does not hinder the shooter's view.
«We've worked hard to create this product with standout features at an incredible value to shooters», said Mark Shore, Vice President, Sales & Marketing, Konus USA.

«The Fission 2.0 is so robust that holds up to any caliber, is parallax-free with 1x power, and the new push button is a feature shooters will definitely appreciate. We've packaged all of this into one micro sight at a fantastic price».
Other noteworthy features of the Fission 2.0 include an integrated mount that has been machined to fit a standard Weaver base, as well as the very popular Picatinny Rail for tactical shooters; a 4 MOA red dot for maximum flexibility, making it a perfect CQB, hunting and target shooting collimator; and a push button control system for the red dot illumination, to make it suitable in all lighting conditions. The Fission 2.0 is covered by Konus' worry-free lifetime warranty, which guarantees replacement of the defective item.

Konus Italia Group S.p.A.
The experts at Konus definitely know there is a lot to choose from when it comes to picking out optics for fall hunting, so they've decided to make the process a little easier, by launching the new KonusPro 3-10x44mm riflescope, offering the etched reticle technology that eliminates the chances of breaking.  It is the perfect deer scope. Try this scope vs. a standard 3x-9x40mm and get 11% more power. The 44mm objective lens will significantly enhance your resolution and provide 121% of the light gathering over the 40mm scope. This is critical during the dawn & dusk time, and will definitely be noticed and appreciated. The KonusPro 3-10x44mm will be sold in the U.S. at a manufacturer's suggested retail prive of 199.99 US Dollars.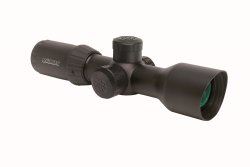 Konus Italia Group S.p.A.
Third in the list is the T-30 3-12x44mm compact scope, offering every shooter the combination of compact scope, with a ballistic range-finding reticle. No more hold over angles, and no more excuses. You can't miss, even in low light conditions or shooting at dark targets, thanks to the exclusive dual illuminated reticle (red and blue). The beefy 30mm tube gets you through the harshest conditions, while providing increased resolution, and the fully multi-coated optics enhance light gathering at every hour of the day. Overall, the T-30 3-12x44mm ovvers good medium-to-long range performance in a tactical gunsight package, thus resulting particularly suitable for 3-Gun shooters and other sportsmen or operators who regularly use tactical rifles and carbines. Manufacturer's suggested retail price tops $439.99 in the United States.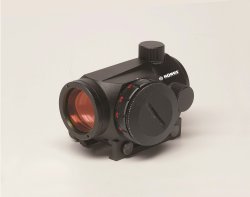 Konus Italia Group S.p.A.
Last, but not least, is the Konus SightPro Atomic 2.0, definitely one of the most versatile gunsights available on the global commercial  markets today. It works perfectly on a shotgun for turkey shooters, a handgun for target shooters, and a centerfire rifle for all-around hunting. It is also the smallest traditional dot sight on the market, and the extremely solid build of its body makes it perfectly able to  withstand the recoil from some "extreme" firearms that would normally rock the zero − or the internal components − out of many budget red dots. Plus, like all Konus products, including electronics, it is covered by the Lifetime Replacement Warranty. Manufacturer's suggested retail price for the Konus SightPro Atomic 2.0 red dot gunsight is $179.99.