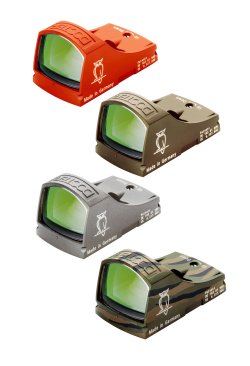 Analytik Jena AG is primarily known for its Docter brand of sport optics, available on the international markets and renown for their high quality level.
Analytik Jena's latest sport optics product − the Docter Sight C reflex sight − was first showcased last March at the 2015 IWA OutdoorClassics expo in Nuremberg (Germany), and is currently commercially available all around the globe.

The Docter Sight C is a micronized red dot reflex sight that is merely 4,6cm/1.8" long, 2,5cm/0.98" high and 2,4cm/0.94" wide; its overall weight, without mounting accessories, tops a mere 25 grams (0.9 oz), making it perfect for all situations where a non-magnified (1.07x) electro-optical gunsight is required while at the same time the overall weight, bulk, encumbrance, and profile must be kept to a minimum.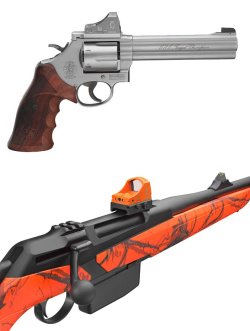 The Docter Sight C is available in three different colour options: Safety Orange, Flat Dark Earth, Camouflage, and Savage Stainless. Other than the outer finish, there is no difference between these four variants. 
The Cerakote coating is up to 60% more resistant than Teflon coatings and offers excellent corrosion protection, outstanding abrasion resistance, extreme hardness and unmatched durability.

The Docter Sight C reflex sight is built around a monolythic aluminum structure coated in silicone-based rubber and featuring a sophisticated airbag-type system that makes it virtually shockproof.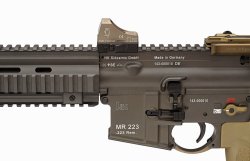 The Sight C sports a 21x15mm/0.8x0.6" window and either a 3.5 MOA (10cm/100mt - 3.5"/100 Yard) or 7 MOA (20cm/100mt - 7"/100 Yard) automatically-illuminated red dot offering a ±360cm/100m (±130"/100 Yard) height adjustment range and a ± 270cm/100m (± 97.5"/100 Yard) windage adjustment range, with a 40 metres (43.7 yard) parallax-free sighting range.

The Docter Sight C reflex sight is powered through a single 3 Volt, CR2032 battery offering a continuous runtime of about 25.000 hours.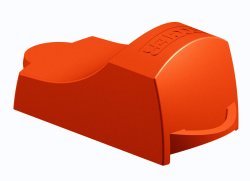 With the new softcovers supplied as standard, the Docter Sight C is well protected against weather impact while stalking or searching for wounded animals − and is, nevertheless, immediately ready for use if necessary. The integrated flipping lug allows an even faster removal in hectic situations. 
The integrated four-point loss protection fixes the cap even better to the Docter Sight C, effectively preventing the cap from being pulled off unwillingly; and, in the rare instance that it is lost anyway, the bright orange colour allows a quick recovery even under unfavourable environmental light conditions.
The Docter Sight C reflex sight is available on the European market at an average price of €250,00; the price can − and will − however vary depending from Country to Country; all prospective international buyers should thus contact their gun store or Docter distributor for informations concerning local availability and pricing.