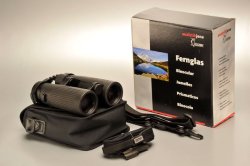 Innovation can ensue through Tradition, as Dockter Optik, a brand owned by Analityk-Jena since 1997, acquiring Carl Zeiss' production facilities in Jena and Eisfeld, attests. Over 150 years of experience goes into designing and manufacturing innovative sports optical instruments.
The Docter Optik 8x42 ED prismatic binocular tested feature an ergonomic open bridge hinge design, an extremely robust and Waterproof structure that is rubber armored and nitrogen purged, and excellent declared optical performance specifications.

Based on a classical Schmidt-Pechan BaK-4 phase correction coated roof prism design, the Docter Optik 8x42 ED feature a Multitop broadband coating on all glass to air interfaces, and Docter Multiclean coating on the 42 mm objective lenses.
The use of Extra Low Dispersion Glass should greatly improve resolution and color fidelity.
Packaging is Spartan, a plain plywall cardboard box covered by a printed carton, containing the binocular, a carry case, straps, instructions and lens covers.
The quality padded carry case is made of Cordura with leatherette trims, features a metal flap fastener and its own carry strap. Quality of the soft plastic lens covers is decent, and the binocular carry sling features a neck strap padded with non-slip Neoprene lining.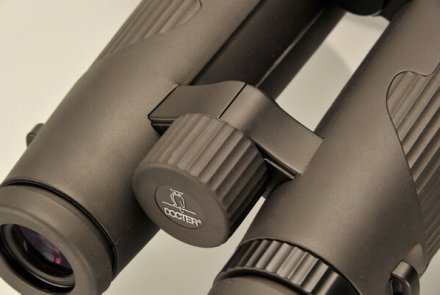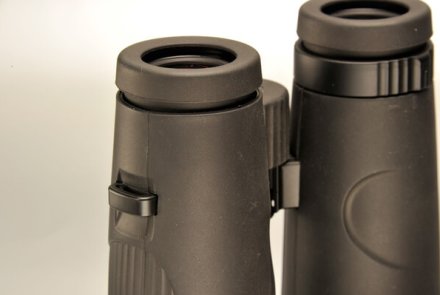 Our first impact with the Docter binocular is very positive. The body appears to be manufactured of high strength Polycarbonate polymer; weight wise, the instrument is quite on the light side, and at the same time still gives a solid impression of reliability. The rubber armoring uses a non-slip material that is very pleasant to the touch and the open hinge design dramatically improves one handed operation, making the Docter Optik 8x42 ED one of the most ergonomic  binoculars in this price point segment.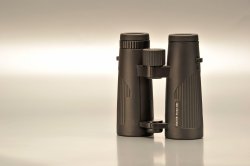 Focusing is improved by the large diameter of the centrally placed knob. A rotation of about 500° is needed to focus from the measured 1.6 meters to infinity. Feedback is good, although it did give some problems in the high temperature test.
Eyecups are the usual soft rubber armored twist up type, adjustable in four click-stops; the rubber is soft enough to prevent damage to prescription glasses.
Diopter adjustment is present on the right eyepiece, operates on the outer lens element, and affords smooth and trouble free operation, although it does not include a locking feature.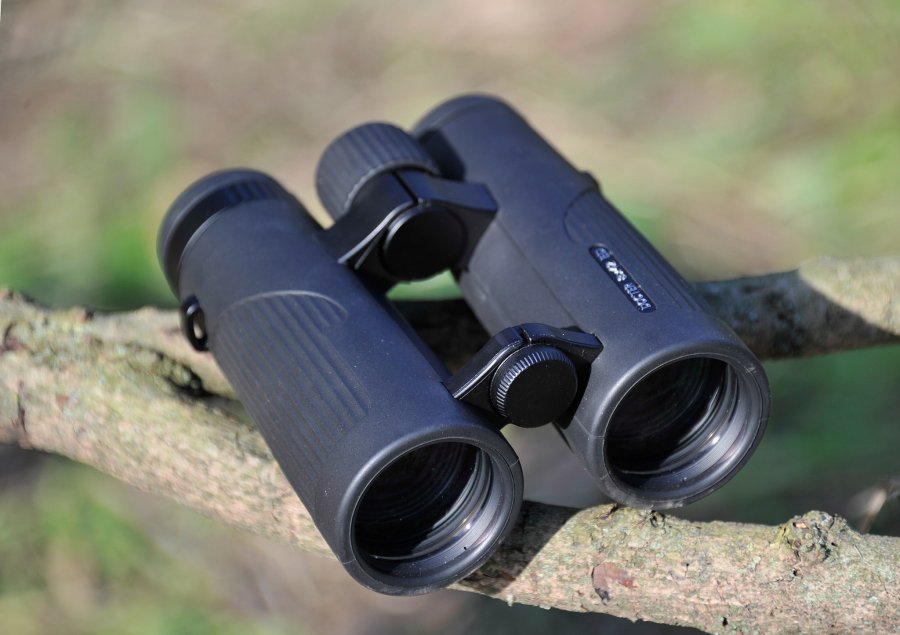 Eyepieces feature approximately 18mm eye relief (17,93 and 18,15mm respectively for the right and left eyepiece), and an exit pupil diameter of 5,23 and 5,2 mm.
Measured field of view is disappointing, only 6,17 for both eyepieces against the declared 6,5 degrees, with a narrow 108 meters at 1000 FOV. This value is fortunately the same for prescription glasses users.
Our field test included observation in day and night time, and use under bad weather, with rain and adverse lighting conditions.
The image is very sharp, with excellent resolution and very low geometric aberration, and no perceptible fall of luminosity at the edge of the field of view.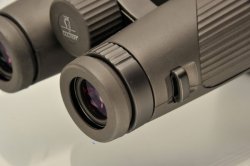 A very slight softening of the image can be noted at the very edge of the FOV, in the same area we can see some chromatic aberration, especially observing high contrasted objects, with definite fringing that disappear in the central ¾ of the eyepiece FOV.
Coma can be appreciated over most of the observable area and is obvious on the edges, making this a mediocre astronomy binocular.
Chromatically, the Docter Optik 8x42 ED is excellent, with a very neutral and accurate color rendition.
Binocular roundup
The Zeiss Conquest HD 8x42
The Minox HG 8x43

The Leica 8x42 Trinovid
The Leupold 8x42 McKinley 

The Meopta Meostar B1 8x42

The Nikon 8x42 Monarch 7