Allen Elishewitz is a character who might well appear in a Clive Cussler novel: born in Texas, he has spent much of his life in Indonesia and Thailand, specializing in various martial arts since he was ten years old. After joining the Marines in Recon C Company, he graduated in Criminal Justice and also earned a Bachelor of Fine Arts degree. In 1988 he began making custom knives, into which he immediately put all his experience as a military man and martial artist. Together with Robert Terzuola, he was one of the inventors of the Tactical folder concept, that is a folding knife that could be used effectively for hand-to-hand combat and self defense. Today he alternates between being a knifemaker and a shooting and tactical combat instructor with his Tactician system. Over the course of his career Allen Elishewitz has worked with more than ten international knife manufacturers designing more than fifty models, and the one we present here is the most recent, designed for China's WE Knife, a company our readers are familiar with by now.
For those of you who have tuned in very recently, let us remind you that this is a Chinese company that entered the market a few years ago with a series of high-quality products, built with materials and finishes well above Far Eastern standards.
Our readers are familiar with guns and know that the term "press check" refers to the operation of checking a semiautomatic pistol to see if there is a chambered round by pressing back the slide slightly and looking through the ejection port.
WE Knife Press Check, an effective and safe bolster lock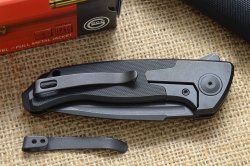 The most original feature of this very nocturnal-looking tactical folder is definitely the "bolster" blade lock. It is a variant of the frame lock system devised by Elishewitz himself, compared to which it offers some advantages. In frame lock knives, the heel of the blade is locked open by the frame of the knife itself. In the system devised by Allen, the bolster swivels to engage and disengage the pin, moving the locking point further forward. One advantage of this system is that it reduces the risk of jamming the blade when opening it. The second advantage, an aesthetic one, is that unlike other frame lock knives, here the material of the scales also covers the locking system, resulting in an aesthetically pleasing effect. The inner part, i.e., the part that engages the heel of the blade, includes a steel plate fixed with an Allen screw, so it is easily interchangeable in case of excessive wear.  
Frame and bolsters are made of a single piece of 6AL4V titanium to which are fixed two black G10 scales (but there is also a black and blue option) with fine checkering. From the grip's end protrudes a tapered ridge that can be used as a window breaker in case of need. On the right side of the grip we find a steel clip that allows for tip-up carry. A nice touch, the outline of the clip is slightly curved downward – therefore, it would not be symmetrical if it were mounted on the opposite side. WE Knife's elegant solution is to provide an additional mirrored clip with the knife. The blade has a drop point profile characterized by the tapered fuller on both sides. Made of CPM 20CV steel with a black stonewashed finish, it is 3.15"/80 mm long and 0.13"/3.2 mm thick. On the left side of the blade we find the Elishewitz logo and nothing else. I like that because it respects the very dark look of this knife. The manufacturer's logo is present too and we find it on the pivot pin of the blade. There is also a version with an American Tanto type blade, but in my opinion it does not have much to add. The blade can be deployed by acting on a very nicely profiled side flipper: it is easy to find but does not protrude so much as to disturb the handling of the knife. The blade locks with a well-audible click and unlocks without the slightest effort. Certainly we are dealing with a carefully thought out and well executed knife. Overall, the Press Check is a compact and manageable folder even for those with medium to large hands.
A few questions to Allen Elishewitz
We contacted Allen Elishewitz to ask him a few questions about this knife and other thoughts:
What is the most challenging aspect of designing an industrial knife today in 2022?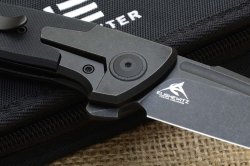 The most challenging aspect is getting a design that doesn't look like anything else. Twenty five years ago it was easier because one, there wasn't as many companies and two, they weren't using knifemakers to help them design.

Compared to a custom knife, which details are more important for a knife intended for series production?
The most important part of dealing with a production knife is making sure the design is balanced. Balanced for the mass buyers and beauty. That means I need to always keep in touch with the current trends and not let my personal opinion dictate the design. On my own custom it is different.
Which detail of the Press Check knife do you think is the most successful and personal?
The Press Check is pretty amazing, quality materials and manufacturing at a great price. I designed this knife with a "bolster lock" because I invented it about 28 years ago. That's a little fact that lots of people don't know.
Do you remember what was your first cooperation with a knife industry?
Yes, it was Mission Knives for a folding knife with titanium blade. Shortly after that I hooked up with Benchmade and stayed with them for about 6 years.
Will you design other knives for WE Knife?
Yes, they have a small hideaway fixed blade with interchangeable handles. This allows the user to change the knife for different applications. That should be coming out the first of next year.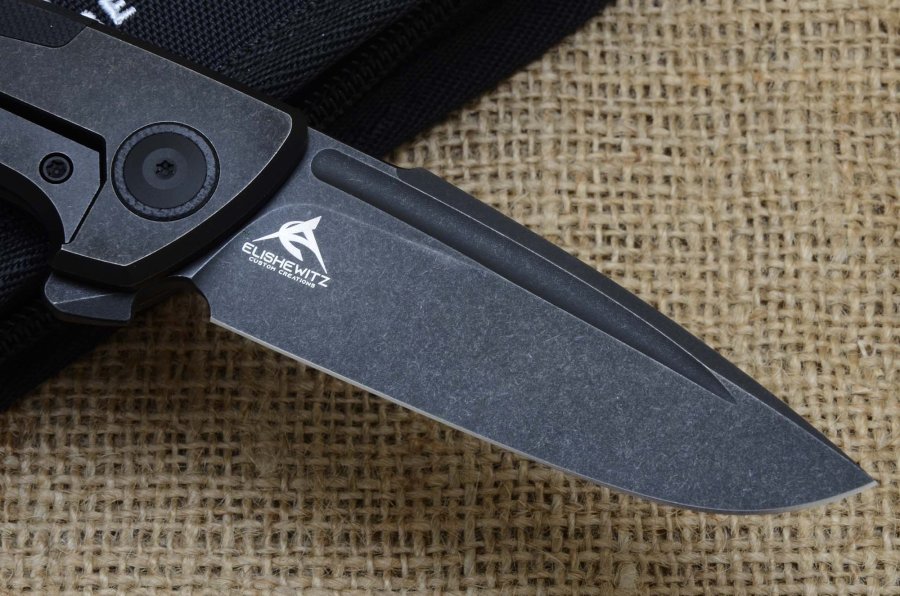 Wrapping up
Thanking Allen Elishewitz for his helpfulness, we move toward the conclusion of this review. Allen said it well – the Press Check is amazing in workmanship  quality and materials, and in fact the price tag is about 290 euros, which is not cheap for an industrial product, but still puts it at the same level as similar brand name products. By now the concept that an EDC folder, if done well, can cost significant amounts of money has been understood by most enthusiasts. The good news is that on the net you can also find it at significantly lower figures, thanks to promotions made by the manufacturer and various distributors. To learn more, we invite you to visit the WE Knife website. 
WE Knife Press Check specs and price
| | |
| --- | --- |
| Manufacturer: | WE Knife |
| Model: | Press Check |
| Type: | Folding EDC |
| Designer: | Allen Elishewitz |
| Locking System:  | Bolster lock |
| Blade Material:  | CPM 20 hp steel at 58-60 HRC |
| Blade Length: | 3.15"/80 mm |
| Blade Thickness:  | 0.13"/3.2 mm |
| Blade Grind:  | Flat |
| Finish: | Stonewashed black |
| Handle: | Titanium with G10 scales |
| Overall Length:  | 7.59"/193 mm |
| Weight: | 3.91 oz/110 g |
| Price:  | 290 euro |