Robert Terzuola, born in Brooklyn in 1944, now lives in California after spending an adventurous life in Latin America. A member of the American Knifemakers' Guild since 1981, he designed several highly successful knives such as the Spyderco C15 and the Slipit and collaborated with companies such as Strider, CRKT, Microtech and Italian Fox. Bob Terzuola is the inventor of the tactical folder concept, that is a folding knife intended for an uncompromising use, and if necessary also as a last-ditch attack or defense weapon. Although a lot of water has passed under the bridge, today more than ever Bob is a prominent figure in the knifemaking world, dividing his time between custom blades, projects for companies and his activity as a teacher, with courses and workshops followed by fans. Among his latest creations we find the Tamashii, a compact-sized fixed blade knife that Bob designed for Civivi, and that is the subject of this article.

The Civivi Tamashii at a glance

The Tamashii is a small-sized fixed-blade knife with essential and spartan lines. Bob Terzuola designed it favoring functionality as usual, and it shows. There is not the slightest concession to the fashion of the moment, yet the result is a knife where, to paraphrase the Gestalt theory, the end result is more than the sum of its parts. It is no coincidence that in 2021 the Tamashii Civivi received two prestigious awards at the Blade Show in Atlanta, one for the best factory made knife and one for the best tactical knife in the show. Not bad at all...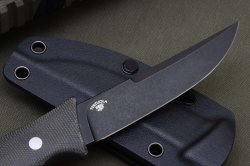 With an overall length of 8.8"/223 mm, the Tamashii weighs 4.43 oz/125 g in the version with G10 handle and 109 grams in the one with Micarta handle. The D2 stainless steel blade measures 4.07"/103 mm for a thickness of 0.18"/4.5 mm and has a very discreet and elegant black stonewashed finish. Its profile is "trailing point" type, that is featuring a back edge that curves upward slightly. This is a blade profile not often seen in tactical knives, but it actually offers that extra bit of edge that never hurts and makes the point sharper. The blade grind is flat with a Scandinavian type grinding and a false edge that extends three quarters of the length of the back. On the rearmost quarter we find a slight knurling that allows the thumb of the strong hand to rest safely. On the blade we find the Civivi and Terzuola's logos in white paint, imprinted cleanly and without any smudging. Sure enough, the Tamashii's blade is perfectly capable of everyday tasks using both the point and the edge. The handle, which can be made of black G10 or an olive green Micarta, is excellent, but that's pretty much taken for granted by now. Its most evident feature – and the most typical of Terzuola's ideas – is the lack of a metal hilt, replaced by the bell shaped handle design. This is a peculiarity that we have already found on the MKM Jouf that does not affect in any way the safety of use. Even though there is no side checkering, the handle grip is very good and extremely pleasant to the touch. In the butt we find a hole for the safety lanyard with a paracord braid that in case of need can be untied, up to length of 68.5 "/174 cm.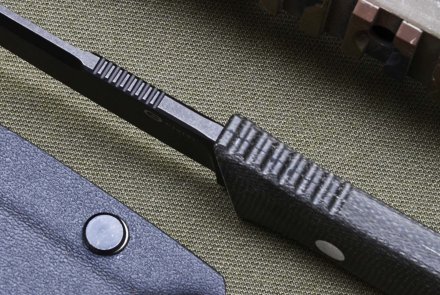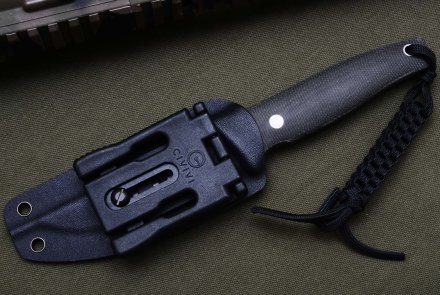 Quick questions and answers with Bob Terzuola

Whenever possible we always try to reach out directly to knife designers for insights and explanations, so we asked Bob Terzuola some questions. 
Hello Bob, thank you for your time: let's start with the name of this knife. What does Tamashii mean and in what language?
In Japanese, the name means "warrior's soul".
What is the most personal detail you included in Tamashii?
My personal detail is the grace and simplicity of the design. 
As is your style, there is no metal hilt. Do you think this detail is out of style?
I think metal hilts are superfluous and unnecessary, especially on a smaller knife designed for simplicity, light weight, and carry comfort. 
We already talked about MKM Jouf here on all4shooters.com. What is the main difference between the two knives?
The Jouf is a full-size combat knife designed for military or tactical use. The Tamashii can be a defensive weapon but is also suitable for everyday tasks , camping, fishing and hunting. Its size and profile make it a very versatile and efficient companion. 
Which fairs will you attend?
I will not be able to attend the CIC show in Milan this year, there are other commitments I have that just make it too difficult for us to be there, unfortunately. I will be at the Paris Sicac show in September and we may travel to Italy afterwards. I will also participate in the Damasteel Cutlery event on line in November. 
Civivi Tamashii knife specs and price

| | |
| --- | --- |
| Manufacturer: | Civivi – People's Republic of China |
| Model: | Tamashii |
| Type: | Fixed blade knife |
| Designer: | Bob Terzuola |
| Blade: | D2 steel, hardened to 58-60 HRC |
| Blade Profile:  | Trailing point |
| Blade Finish:  | Black stonewashed |
| Blade Length:   | 07"/103 mm |
| Overall Length:  | 8.8"/223 mm  |
| Blade Thickness:  | 0.18"/4.5 mm |
| Weight:  | 4.43 oz/125 (with G10 handle) or 3.84 oz/109 g (with Micarta handle) |
| Handle: | G10/Micarta |
| Sheath: | Kydex |
| Price: | $78.20/75 euro approx. |
Wrapping up

The Civivi Tamashii comes with a Kydex sheath featuring a quick release system designed by Bob Terzuola himself, which allows carrying on the belt,or on the backpack shoulder straps in an upright or horizontal position. Even carrying the knife with the handle down, the level of retention is remarkable, and this combined with the knife's light weight makes it unlikely that it will accidentally wander off. Certainly this is a lightweight but not weak knife, with a 0.18"/4.5 mm thick blade that can handle most everyday tasks, even out-of-town ones. The blade with an elegant profile also makes it suitable for slicing and preparing food. Finally, the price: Civivi has accustomed us to affordable figures and the Tameshii does not escape this logic. It costs $78.20 (about 75 euros) and as usual is presented in a rich package: in addition to the Kydex sheath, in the box we find a cleaning cloth, a certificate of guarantee and two stickers. The knife is impeccably packaged, with a plastic tip protector and a cardboard sleeve that wraps around the blade. We are sure that in a short time it will become a little classic that will delight those who love knives with a clean design, but also hikers and hunters for whom every extra gram of weight in the backpack should be avoided, but without sacrificing effectiveness and quality.

---